New developer reveals plans for major Digbeth mixed-use scheme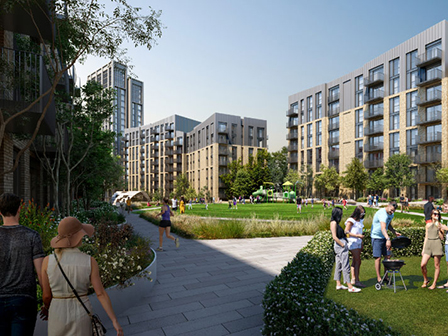 X

Register for free to receive latest news stories direct to your inbox
Register
Goodstone Living has chosen Birmingham to buy its first development site in a move it says will bring a "next generation" build-to-rent scheme called Camp Hill Gardens, in Digbeth.
The four-acre consented scheme is expected to include over 500 new build-to-rent homes and the largest private garden in central Birmingham.
Camp Hill Gardens' residents will have access to over 22,000 sq ft of shared amenity space including an onsite gym, co-working areas and rooftop terraces offering unique skyline views over Birmingham. Goodstone Living says it has designed the site to feature dedicated commercial and retail space, which will be offered at a 50% discount to promote local businesses.
The site has been acquired from Eutopia Homes, a private developer with schemes in Salford and Exeter. The firm obtained a planning consent in March for a mix of residential and commercial uses, designed by architects Darling Associates.
Martin Bellinger, principal at Goodstone Living said: "Our strategy is focused on long-term value creation and this requires us to be able to identify significant regeneration opportunities where demographics and cultural shifts are occurring to transform areas in need of new housing.
"As the UK's second largest city by population, Birmingham benefits from a large and growing pool of potential residents demanding high-quality, purpose-built and professionally managed rental accommodation. This makes Birmingham the perfect place for our first development project, and we look forward to transforming Camp Hill Gardens into a vibrant residential community, while also celebrating Digbeth's rich industrial heritage."
Scott Hammond, founder and CEO at Eutopia Homes, said: "We are delighted that Goodstone Living has backed our vision for Digbeth, a key growth area within Birmingham. Goodstone's vision will help forge an exciting new community that offers a different type of rental proposition for a fast-growing, young market.
"While we have seen significant investment in the area since we acquired the site in 2018 with Chenavari Investment Managers, we believe that the future regeneration prospects for Digbeth are second to none – a passion shared by the Goodstone team."
Macquarie Asset Management announced the launch of Goodstone Living in June, with the specialist real estate development and investment management business established to capitalise on a "significant market opportunity" in the UK's purpose-built rental housing sector.