Environmental activists protest outside Severn Trent HQ

Members of environmental activist group Extinction Rebellion protested today outside of Severn Trent's Coventry headquarters.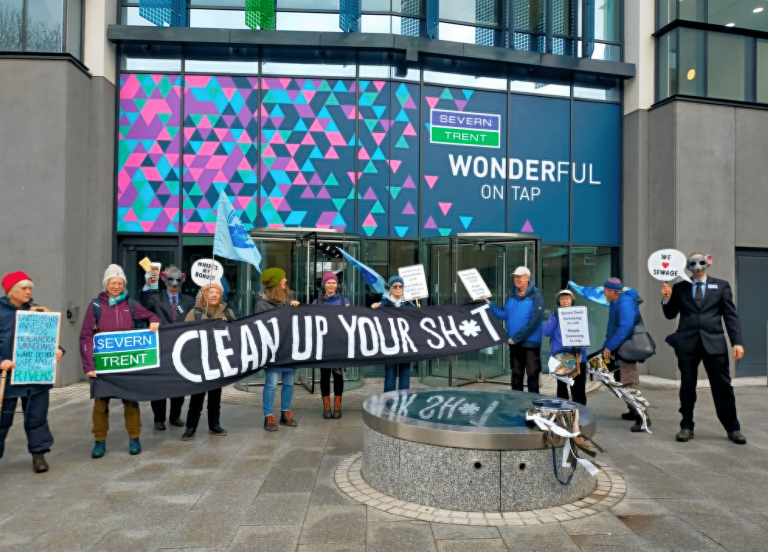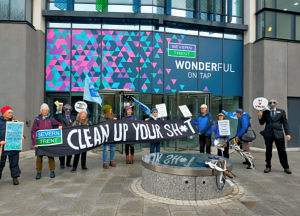 The group said on Twitter that, "In 2021 Severn Trent Water pumped raw sewage into the river for 28,741 hours. Humans, fish & otters have had enough. Clean up your sh*t".
It said whilst CEO Liv Garfield receives £3.9m in pay a year, making her the UK's highest paid water boss, that Severn Trent dumped "tens of thousands of hours of raw sewage into the River Severn" and called it the "most polluted river in the UK".
The activists are calling on Severn Trent to "stop profiting from poo-llution. Rivers are for fish, not sewage!"
Both Extinction Rebellion and Severn Trent have been contacted for comment.
A Severn Trent spokesperson said: "Whilst we fully respect the right to peacefully protest, the claims made do not reflect the performance, progress or investment being made by the business to protect our regions rivers.  
"Since privatisation Severn Trent has invested £25 billion in infrastructure and is investing £100 million each year to improve rivers.  We're proud to be sector leaders including hitting 100% of environmental targets and being recognised with the highest 4* status from the Environment Agency.  
"Other sectors are responsible for 85% of reasons for watercourses not achieving good ecological status across in our region, with 16% within the control of Severn Trent and we've made a commitment that this will be down to zero by 2030." 
The water firm says in 2021/22 it spent £592m on treating wastewater, to support a healthier environment and since privatisation has spent £25bn in capital expenditure.
Over the five years to 2025, Severn Trent will be spending £8bn to on "caring for the environment, providing skilled jobs in our region and investing in infrastructure for the long term".
Severn Trent was fined £1.5m in 2021 following illegal sewage discharges from four sewage treatment works in Worcestershire between February and August 2018. The water company was also been ordered to pay prosecution costs of £58,365.
The court heard how the company failed to respond to alarms warning of a blockage, failed to adequately manage sewage sludge, and failed to adequately manage a situation when a piece of equipment failed. Resulting in sewage being discharged into a number of watercourses in Worcestershire.
In one case, 360,000 litres of sewage was illegally discharged to the Broadway Brook. It was hours before Severn Trent Water operatives attended to take remedial action.