Yoghurt maker Muller pays £100,000 to charity after river discharge
Yoghurt manufacturer Müller has donated £100,000 to a wildlife charity after high levels of ammonia were discharged into a river near its dairy facility in Shropshire.
Shropshire Wildlife Trust received the financial boost after the Environment Agency accepted an enforcement undertaking (EU) offer from Müller UK & Ireland Group.
The payment is part of an EU offered by the company for its failure in effluent discharge to the River Tern at the Müller Dairy facility in Market Drayton in January 2018.
Müller UK & Ireland Group is the largest yoghurt producer in the UK. The EU occurred as a result of three charges of failing to comply with permit conditions when an inlet screen was bypassed during maintenance works.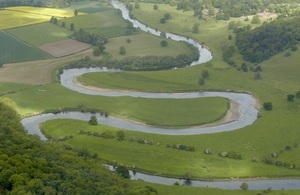 Large pieces of fruit passed into the effluent treatment plant, leading to high levels of ammonia in the treated effluent discharged into the River Tern.
The effluent contained in excess of the permitted level of ammoniacal nitrogen for a period of 15 days in January 2018.
Müller has since complied with the regulations and invested £2m in improvements to environmental working practices and made the contribution of £100,000 to Shropshire Wildlife Trust.
Sarah Dennis, a senior specialist for the Environment Agency, said: "Enforcement undertakings allow polluters to positively address and restore the harm caused to the environment and prevent repeat incidents.
"The Environment Agency is increasingly using this method of enforcement for suitable cases to restore the environment, improve practices of the offending company, and avoid longer criminal court cases. However, we will prosecute in appropriate cases.
"As well as donations totalling £100,000 to Shropshire Wildlife Trust that will bring great benefits to the environment, Müller UK & Ireland Group LLP has made significant improvements to its effluent-treatment plants and staff training."
The company has also paid the Environment Agency's administration, investigation and legal costs.