Aston Villa pauses plans for events space to speed up £100m stadium expansion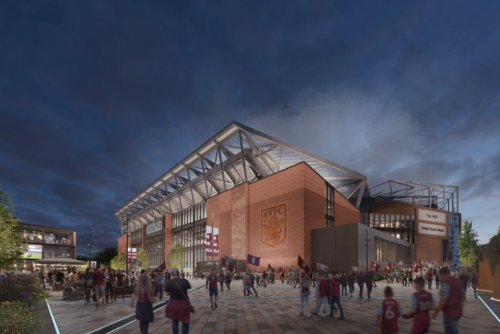 Aston Villa has pressed the pause button on its plans for an events venue in order to speed up the £100m expansion of the stadium's North Stand.
The Villa Live scheme, a standalone building intended as a multi-purpose entertainment, community and retail space, will now be built inside a refurbished warehouse near the ground.
The North Stand redevelopment has been redesigned to include a new internal mezzanine level containing a shop, ticket office, and an improved food and beverage offer.
A planning statement said the club had reconsidered the phasing of the scheme and decided to focus on building the North Stand and would complete the original plan for Villa Live at a later date.
As an interim solution, it said the Stumps Academy building would be repurposed to offer a fan zone, food and drink space and events space.
The planning document said: "The planning strategy for the redevelopment of Villa Park has been reworked through this s73 application to ensure that the North Stand can come forward for development immediately, and new proposals for the refurbishment of the Stumps Academy building and car park fulfil wider functions of Villa Live in the 'meanwhile' period. This scenario will allow the future delivery of Villa Live and the completion of the original consented scheme in the future."
Two applications for the changes are due to be given the green light by Birmingham council on Monday.
The document said: "The proposed amendments do not alter or change the previously approved use or the scale of development on the site, which remain the same; nor do the proposals change the fundamental principle of the approved scheme. The amendments do not introduce new or significantly different impacts. The amended proposal represents a policy compliant sustainable development that accords with the Development Plan and aims and objectives of the National Planning Policy Framework. The proposed amendments reflect the latest position of the applicant and development in terms of its function and viability.
"The alterations proposed as part of this Section 73 application reflect necessary delivery evolution and are critical to the successful delivery of this strategically important scheme in accordance with policy. On this basis the amendments are acceptable and planning permission and should be approved."
The club's redevelopment of its North Stand was approved in December last year and will add 7,300 seats, bringing capacity up to 50,000.