Sutton Coldfield entrepreneur hospitalised by workplace stress shares her story and pens a best-seller
This year will be one to remember for 37 year old, entrepreneur Lorna Jayne Riley from Sutton Coldfield, Birmingham, who today discovered she'd penned a best-seller, as a book she co-authored went straight in at number 1 on the Amazon best seller charts in; Business Consulting and Entrepreneurship alongside books by; Sir Richard Branson, Baroness Karren Brady, Sir Alan Sugar, Carrie Green and Jo Malone – it is also sitting as the number one hot new release just about every category.
Lorna Jayne is hoping her story might be a warning sign to others, as her story within 'You are Meant for More', for which all proceeds will go to United Nations One Bracelet campaign to help end violence against women, shares her personal story of how she suffered extreme burnout, lost her job, her self-esteem, and ultimately herself and how she overcame and used this whole experience to fuel her drive and create a better future,  in a bid to inspire others looking to make a change in 2019.
Lorna Jayne said: "I knew I was meant for more, it just took this whole experience, the 'tip of the iceberg' to break me, and to cement the feeling that I needed to change……for the better!"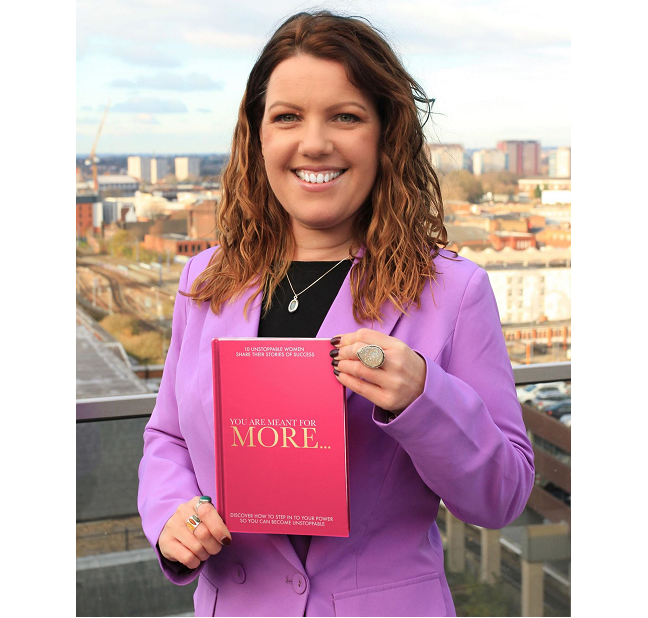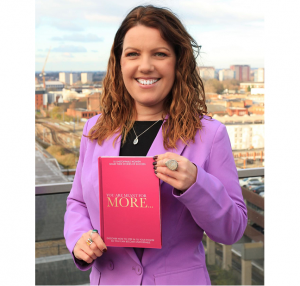 She explains how she had become miserable due to workplace stress and HR battles with teams she was managing: "Going into work every day was an effort. I would literally cry all the way there and all the way back home, every single day, determined not to give up." However, shortly after, Lorna Jayne's world turned completely upside down as the knock-on effect of the stress took it's toll on her health. She said: "I had been ignoring the signs that my body was giving me. I had heart palpitations, I had lost my confidence, my weight had dropped significantly, I started smoking and I was addicted to coffee. One day I collapsed, and I burnt out. I couldn't even walk down my stairs! I had to come down my stairs, step by step on my bottom. I was so weak. I was broken, and I was hurt. I crumbled. Due to this prolonged bout of sickness, I lost my job, my self-esteem, and I lost myself. I ended up being off work for six months, and because my sick pay had stopped, I couldn't pay my mortgage. So, I had to move back in with my parents who lived in the south and I rented my house out in the Midlands."
Over the next six months, Lorna Jayne worked hard on figuring out who she was, building up her strength and healing her mind, body and soul and discovered a Japanese healing technique called Reiki, which helped her feel ready to return to work in the Travel Industry. Realising that she missed travel, she applied for a job as an Office Manager in Turkey which at first seemed like the perfect opportunity to get her life back on track however, a few months into the role, she started to get ill again and realised she wasn't happy, but yet again for too long she tried to ignore that she wasn't feeling well, shrugging it off, pushing and forcing herself to be grateful for what she accomplished and for overcoming everything that had happened to her the year before.
Having once again felt like she was hitting burnout, with non-empathetic boss who expected her to just 'keep going', before she knew it she was in Marmaris hospital in Turkey having endless ultrasounds and scans. She said:"I remember being in hospital, feeling so alone and upset with myself. I was upset that I had allowed myself to get like this."
After a relocation offer back to the UK for what should have been her dream job Lorna Jayne felt much happier, however this role never quite materialised into what was offered and soon enough she found herself hospitalised again due to extreme stress and anxiety, then investigated for having time off sick and losing her job weeks before Christmas with no pay, for being legitimately ill.
This time she promised herself she'd listen to her body and is now warning to others to do the same and "trust your gut!". Making a complete change from the corporate world to move into a happier, healthier industry she launched 'Lifestyle Balance – a healthier you!'.
Lorna Jayne said: "I became a Fitness instructor, I did hypnotherapy courses, coaching courses and qualified as Level 2 Practitioner in Reiki and I was offering appointments three to four times a week from a treatment room in my house. I then started working at a salon and getting my name out there to the local community. I can't tell you how amazing it felt, I was helping women of all ages, mostly those with anxiety, and it was so rewarding."
"I decided to take the leap, and signed up for an NLP Practitioner course later that year. The course changed my life. I was so passionate about helping other women feel good again, and avoid the burn out, and loved the idea of combining Reiki Healing and NLP Coaching into my business. Working on the unconscious mind, along with healing emotional energy blocks, it was a unique idea which would set me apart from others."
Throughout all of this Lorna Jayne continued to work for a construction company to help fund her training and professional development, however, one morning she met her boss on the stairway of the building who said 'Sorry Lorna Jayne but you don't have a job' – the company had gone bankrupt and she was unemployed with no notice and no pay.
She said: "That was extremely hard. I couldn't pay my mortgage and I had no money in my bank. Thankfully my Dad came to the rescue, and I started to see this as an opportunity to throw myself into my business in a full- time capacity."
18months later, Lorna Jayne is now a qualified Reiki Healer for Professional Women across the globe and a NLP Mindset Transformation Coach and the launch of her book is part of her mission to get more people talking about workplace wellness and to try and help people identify their own triggers that perhaps they are not looking after their wellbeing in their current roles.
She said:" Too many of us accept stress as a part of life, too often. We just think it's part and parcel of our busy worlds, and yes to a degree this can be true -but when we are feeling sick in our stomachs about going to work, when we are getting physically ill as a result of anxiety – then it's time to stop – but I hope in sharing my story I can get people to stop and take a look at their wellbeing before it gets to this point, to help others avoid getting to the point of burnout that I did."
Already reviewed as 'a book jam packed with inspirational stories from a range of entrepreneurs' and 'I just couldn't put this book down from start to finish – A must buy!'… You are Meant for More'' charts the journeys of 10 women in business.  Available now via Amazon https://www.amazon.co.uk/dp/B07KTBYVV3 the book is also to be made into a paperback.
Brought to life by Authors & Co whose focus is on telling stories of those who are keen to inspire and leave a legacy, the creation of the book has been done in collaboration with the 10 ladies' business mentor, globally recognised positive psychologist, speaker, author, and coach, Niyc Pidgeon in a bid to inspire others to take create 'unstoppable success".
Passionate about health, happiness, and entrepreneurship, having hit rock bottom in her youth, but now having created her dream life, Niyc Pidgeon, has grown a 7 figure location independent coaching business and is on a mission to help a million women change their lives using Positive Psychology by the year 2020. 'You are Meant for More' is a part of her contribution as she showcases other women she has supported, providing them with the opportunity of sharing their story and in turn hopes to continue the knock on effect of empowerment.
Abigail Horne, Authors & Co founder said: "Documenting your story can be one of the most powerful things you can do, to leave your legacy and to help have an impact on others. Lorna's story is sure to strike a chord with many other women worldwide, and I'm excited to have been able to help her share it, and achieve best-selling author status at the same time!".
As a further extension of her mission to knowledge share and inspire Lorna Jayne is inviting anyone interested in learning more to join her Facebook Group Dare to Shine or reach out to her via http://www.thelifestylebalancegroup.co.uk.
—————————–
Lorna Jayne's 10 top tips for how to start your own business in 2019:
I have learnt that all of my challenges and bad experiences have helped me find my true purpose and passion. If you are reading this and you are thinking of starting your own business. Here are my biggest lessons and top tips from my journey so far:
Eliminate the negativity – cut anybody who doesn't feel good
Not everybody will understand what you do and that's ok
Fight the fights that are worth fighting
Find your tribe and love them hard
Keep focused on your dreams
Never let anybody distract you
Follow your gut! When things seem to be crumbling, its usually because a breakthrough is on its way
Work on your mindset and create a routine that works for you
Be consistent
Create good habits