Region is unable to grow unless skills and talent pipeline is addressed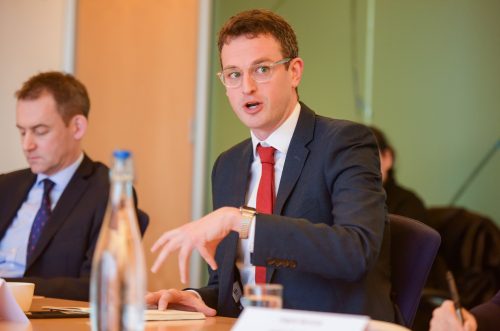 X

Register for free to receive latest news stories direct to your inbox
Register
The Leeds City Region has a young population, with a plethora of universities able to feed talent to businesses.
But more needs to be done in order to address the gap that does now exist, according to private and public sector business leaders who spoke about the subject at TheBusinessDesk.com' s Leeds City Region roundtable, sponsored by Weightmans and DB Symmetry.
Nick Quin, of the Yorkshire Building Society,  said skills, alongside diversity and inclusion, had been a big focus for the mutual. He said that after holding a conference, the firm had – along with other businesses – come up with the idea of "returnships". Embarked upon mostly women coming back to work after maternity leave, he said this was an area that could help to address the skills gap collectively. Quin said: "There is an untapped talent pool there."
Now, a group of firms have joined together with a recruitment agency to find out what will work to enable people to get back into the workplace. He added: "That doesn't necessarily end up securing talent for us but hopefully we'll get some. It's going to evolve and turn into everyone working together in the city region on this specific issue."
Justine Shaw, a director at CPP Group, said: "Change happens one conversation at a time. What's good about that approach is you have a group of people working on the same problem together."
Ben Still, managing director of West Yorkshire Combined Authority and Leeds Enterprise Partnership, said: "I think the biggest challenge is future pipeline of talent. It's about skills. We have about 60,000 people in our further education sector, 40,000 people in the higher education sector but we are still only producing 3,500 apprenticeships a year. So there's a lot to do."
Dr Martin Stow, chairman at Nexus at the University of Leeds, said: "It's all about making it easier for businesses to be able to connect and work in partnership with the university."
Dr Stow talked about an engineering company in Leeds as an example of how to think around the skills issue. He said: "They recognise their business has moved significantly and they need to bring in new skill sets. We're looking at a programme in terms of how we can do that with them. We're looking at it from a more strategic, holistic approach."
Henri Murison, director at the Northern Powerhouse Partnership, said the city region needed to link together the
needs of its economy with the needs of individuals. He said it was about a focus on education and attainment; and an aim to have an inclusive growth strategy right across the region.
He said: "We need to be more confident about talking about those businesses who themselves are serious about this agenda. It is a differentiator around how you address the talent problem. There are better, more efficient ways to attract talent rather than just steel somebody else's staff. Businesses can grow their own, invest in new talent and then have a pipeline of people. That's more efficient and it is better for the economy and for the ecosystem individual businesses operate in.
"If you bring real focus these problems, you can address some significant issues and do it relatively quickly. If we are saying that we want to increase productivity here in the north of England, obviously Leeds has an incredibly important part of that Northern Powerhouse area.
"But you have to find a mechanism to change the underlying barriers to a more productive economy. Most of the productivity increases come from education and skills.
"If you re-balance R&D spending, if you did all the work on skills, education, and you do the stuff on transport – that probably gets you most of the way. Then you have to think about what's your industrial strategy to bring all that together with the individual sectors or particular growth areas to the macro challenges."
Digital skills attracting firms to the region
Shaw said that CPP's HQ move from York, after around 30 years in that city, to Leeds was very deliberate. She said: "We were increasingly wanting a different dynamic – a different set of skill. York is brilliant – it's a very nice, comfortable – slightly sleepy – university city that doesn't really attract the digital skill sets we need."
Still added that while skills often attracted new businesses to the region, the pipeline of talent was very much a concern that needed to be addressed. He said: "In our business surveys, particularly looking at particular sectors like digital, 25% of firms are struggling to get the talent that they need. So even though one of the city region's big attractors is the fact that we do have good talent and accessible talent – we are unable to grow if we don't get it right."
Dr Stow "We've just appointed an engagement manager for Nexus specifically for skills and talent purely because there's such a massive need there. The companies that we're talking to tend to be more on the research and innovation side. They are starting to talk about the fact they need to up-skill the workforce or the fact they are struggling to recruit.
"So we're now starting to develop long term relationships to ensure that actually companies can have a talent pipeline. Or we can use the expertise we have in terms of a professional education courses at the university to actually work with that company on a long term programme."