The maths of the perfect office
X

Register for free to receive latest news stories direct to your inbox
Register
It's easy to imagine there's a formula for the perfect office. Firstly the amount of space is dictated by the number of staff, then the layout is the result of necessity. But this is not the case as panellists at our latest seminar entitled, 'The Modern Office: How to Maximise the Potential of Your Space and Employees' explained.


"For me creating our office was about making a place which highlighted that as a business we value our people and was about creating a community" stated Jacqui Hall, managing director at CNG. Jacqui's business which moved into its offices in 2014 and now occupies the entirety of the former HM Revenues and Custom building in Harrogate.
"Our communities outside of work are breaking down becoming more disjointed and fragmented, so for our business redesigning the office was about bringing CNGers together as a unit so that inside work we are one unit."
It's easy to imagine from Jacqui's points that creating this sort of community means taking down traditional barriers such as offices or walls and having an open plan environment but that's not the case as Amy Revell, sales director, Absolute Commercial Interiors – sponsors of the seminar- said: "Forget the open plan office of old. In 2019 and beyond we need to look at creating activity-based workspace that creates different zones depending on the task being carried out. These spaces bring together functions and provide them with a little bit of everything from hot desking neighbourhoods, to quiet focus spaces to standing desks for short meetings. In fact one client built a figure of eight track around their office to encourage walking meetings – four laps and you'd covered a mile. The client said that doing this transformed the dynamic of meetings, taking away the formality of sitting at a desk and making it into a free flowing conversation."
From an office design perspective, it would appear that the days of wall to wall desks are numbered, in fact all attendees at the seminar were provided a glimpse into a cleverly created space at Engage, a digital agency in the centre of Leeds. Walking into the building the agency calls home, Munro House, you'd be forgiven for thinking there was anything exciting beyond the cool coffee shop on the ground floor. But entering the coded lift is like opening walking onto Platform 9 3/4.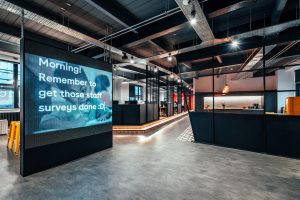 On exiting the lift into Engage's office you're greeted by a giant LED screen, bright walls and most strikingly, space. Rows of desks line up along walls but they're not squashed in, around them is space. Agency co-founder Alex said: "We wanted to give our people space as this adds a flow and calmness to the office. In fact we wanted to have space so that project teams felt they could move to work together and that everyone felt they could use, which is why most of our teams work from laptops."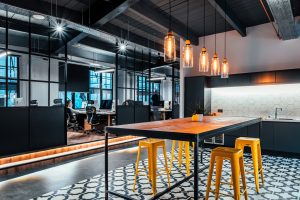 He continued: "Our office environment is about more than how many computers or people we can get in – in fact if we tried we could clearly add more – but the space is designed to support our staff's wellbeing and as a result helps us retain and attract the best talent."
Craig Burrow the final panellist and the director for Leeds at property developer Bruntwood, continued: "We as developers and landlords need to do more now with our offerings than ever before, which means when planning a building, we need make the most of transient areas and see how and where facilities such as bike storage and networking areas can be included. Alongside those aspects we try to provide other wellbeing offers within our buildings from gyms and bikes to biophilic design, sleep pods and quiet areas.
"Including wellbeing facilities in the design is not enough" continues Craig, "we have to activate them and encourage people to use them too. As a result we built a community app that allows our tenants to interact and build wellness into their day."
So what's the formula for the perfect office? It would appear the answer is less mathematical and actually comes down to creating and managing a community of people.
"The buzz of a new office is fantastic" says Amy, "but the trick to keeping that is to keep your community engaged by hosting events and utilising the space. If you continue to put effort into your space, your business will continue to benefit from it."