Landmark student accommodation scheme completed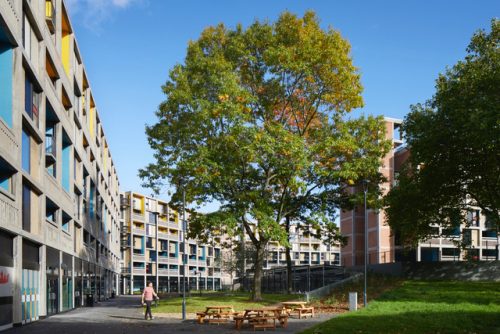 Work has completed on Béton House, a student accommodation scheme which forms the third phase of the redevelopment of Park Hill in Sheffield.
It provides accommodation for 356 students within townhouses and a number of two and four-bedroom apartments and studios.
Alumno, a specialist in the design and development of modern accommodation for students, and Sheffield City Region based architects Whittam Cox are celebrating the end of the work.
Alumno has worked alongside Kier Construction in adapting the building.
Homes for Students, a nationwide student accommodation company, has been based at Béton House since September welcoming and settling in new students and managing the building.
Other collaborators are interior design firms Ben Kelly Design and Brinkworth with Graphic Thought Facility.
The Béton House students join the 700 strong community that has been living and working at Park Hill since 2013, following the completion of the first phase of development by JV Partners Urban Splash and Places for People.
David Campbell, MD of Alumno, said: "This year more than ever it is important to provide quality term time homes for students, and the adaptation of this amazing brutalist structure by Whittam Cox is exemplary providing an ideal place for students to both study and socialise.
"The whole project has been a fantastic team effort from planning, design, construction through to the influence of some great creative interior designers and artists.
"It is so heartening to see Béton House fully functional and occupied and to see students enjoying living there."
Whittam Cox Architects have worked with Alumno, leading the student accommodation design and building shell restoration, saving as much of the original building fabric as possible and integrating the modernist mosaics and use of colour from the original design.
Nick Riley, board director at Whittam Cox Architects, said: "We have worked incredibly hard to understand the deep roots of the original design which is clearly very unique in architectural character.
"Our designs retain and celebrate all of the important elements of the original scheme, while respectfully adding new layers of identity and design thinking to create three-storey townhouses for student residents, using the famous 'streets in the sky' of course."
Regional director, Kier Regional Building Northern, Dan Doherty, said: "We are delighted to have handed over the completed Phase 3 of the Park Hill Flats project to Alumno Group.
"The scheme has not only improved an area of Sheffield for students and residents for years to come but has also enabled us to invest and provide a legacy to the community in which we work."
Alumno brought in Ben Kelly of BK Design and Brinkworth to transform the 650 sq m of communal area that now includes a gym, cinema, private dining room, and study room.
Kelly said: "If you look at it from a student's point of view, they're living in a very different building to the usual one.
"I like to think it might open their minds to society and to other ways of living – an extra part of their education."