Investigation launched into college's rugby club sponsorship deal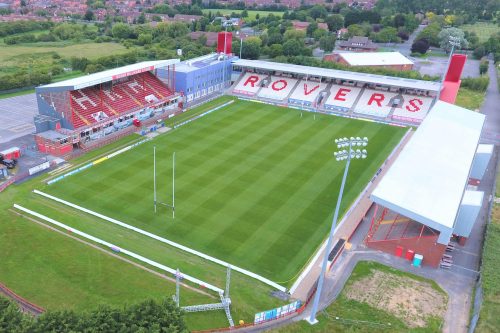 An investigation is being carried out into Hull College Group's signing of a £240,000 rugby club stadium naming sponsorship deal.
It has been reported that the probe was started by the college's new interim chief executive – Lowell Williams.
The three-year deal with Hull Kingston Rovers was struck in July 2019 and the club's stadium was renamed Hull College Craven Park in August of that year.
Williams has told digital publication, FE Week, there "may have been a breach of the college's financial regulations when senior management at the time entered into the contract".
Responding to the publication's question on whether the deal was signed without the college chairman and other board members being aware of it, and whether any spending rules were breached, Williams said: "My view is that a contract of £240,000 plus VAT did indeed require board approval. I have asked for a legal opinion on this matter."
In addition, he said he was "concerned senior managers at the time did not make best use of legal advice they had obtained when negotiating the contract", adding that "the college welcomes our educational partnership with HKR but I would not have recommended to the corporation entering into a contract of this value and nature in July 2019, if I had been in post."
"There is no record of management bringing to the attention of the board the full value of the contract."
Hull College Group is currently meant to be overseen by the Government as part of a FE Commissioner intervention process following a £50m bailout in 2018. It is understood the FE Commissioner and his team visited the college at the end of last week.
Since then the chair of the board of Hull College Group, Daf Williams has resigned and said: "I am very sad to be leaving a role that I have thoroughly enjoyed."
He added that having taken up the role two years when the college was already two years into the intervention by the FE Commissioner, that he did so as a volunteer and had put in "countless hours for free, working alongside many other volunteers on the governing body" but that balancing this with a "busy working life" had proved too much.
Accepting that improvement in the college's governance had not "been at the pace we would have hoped in that time", he also highlighted that there was also "a failure on the part of our regulators".
The former City of York Council leader added that: "As a former council leader, I have a good understanding of how intervention works in local government, where officials are embedded in the organisation they are seeking to turn around and where they genuinely work collaboratively to try to fix the problem. Sadly that does not seem to be the approach from the FE Commissioner team, where intervention is really just a form of regular inspection, making occasional visits to observe and make recommendations, then leaving for you to fend for yourself."
FE Week has also reported that the "vice principal for learner experience and business development, who had worked at the college for two years and is responsible for the marketing department, had resigned to take up a job at Hull Kingston Rovers."