"It has to begin with a dream"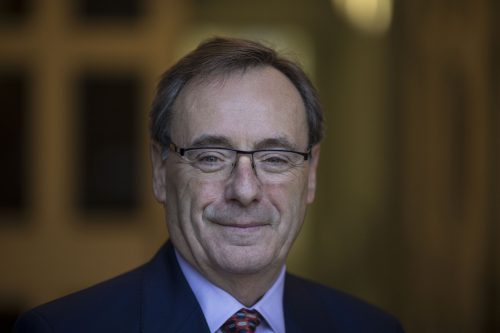 As I introduced Sir George Buckley at last week's West Yorkshire Innovation Festival closing event, I referred to him as one of Yorkshire's sons. A true enough statement but perhaps one that like the man himself belies a far more interesting tale.
He tells it of starting in abject poverty in Sheffield, a sickly child who attended a special school for handicapped children that was focused on getting him well, "not necessarily well educated". However the tale then takes some twists and turns traversing the Atlantic by way of Huddersfield and brought him to the point he is at now.
He's the former chief executive and chairman of 3M Group and now the chancellor of his alma mater, the University of Huddersfield. And although apparently not working full time – a statement he claims his family thinks isn't true –  he is also the chairman of Smiths Group and Stanley Black and Decker.
As we sat down on different continents to celebrate the inaugural West Yorkshire Innovation Festival, Buckley shared many pearls of wisdom from his years in business. Tales of handing the first Apple Watch to Tim Cook – a smile on his face as he says he handed it over himself, to the importance of having a dream to the process of innovation.
I think it's fair to say I wasn't expecting him to be quoting South Pacific when the live Zoom interview began, but he did.
"When I speak about innovation I often, I won't say always, but often start by suggesting people need a dream. I love that song from the movie South Pacific, where I think the lady was called Bloody Mary if I remember…and she sings this song called Happy talk – 'happy talkin talky, happy talk, talk about things you like to do, you've got to have a dream, if you don't have a dream how you gonna have a dream come true.
"It has to begin with a dream and most people way back when in the industrial revolution had a dream. And in sense all entrepreneurs have a dream, and they're optimistic, and they're curious, you can never really be an entrepreneur, or create unless you're optimistic."
He explained that he believes it's this vision of optimism, optimism that we can in fact create a better future and that we can alter the outcome, is the skill what we need to engender in people.
"We have to remember that in life all big companies were once small companies, all big ideas were once small ideas. So they're born in some place and they're fostered and fertilised, they're encouraged and grown until they become the kind of things that are common place for us in society. Oddly enough innovation is one of those things that doesn't really require scale not in the classic sense of the word."
The man who's accent has a slight transatlantic twang at times, then shared his advice and message to the next generation of innovators to come from the city region.
"There's two things I would like to say. First of all, it's a principle actually, keep your eyes on the prize, you have to keep that light out in front of you it's a guiding light, the North Star some people want to call it. Don't give up that belief just because you've had a year of setback we've all had setbacks and will continue to have setbacks, but to have that guiding light in your mind, it's an idea, it's a career, it's a something you want to make or invent, have that in your head and mind.
"But also I think I'm perhaps an example of anything is possible with the application of creativity, imagination, hard work, and other people I might add by the way. So it doesn't matter which social strata you come from, it doesn't matter what ethnic background you come from, it doesn't matter what gender background you have and especially I think that's the case today.
"Anything is possible as long as you are prepared to deal with some certainty, but use and unleash your creativity and your imagination, just let it flow. Don't be impeded by the norms or people that tell you, 'Oh you can't do that, it's impossible'. You can't say it's not true, but it doesn't mean that it;s gonna be easy. I think that having that abiding belief inside, almost like a mini nuclear reactor going on inside that drives you forward, these are the vital things, in having dreams and creating them."
As the conversation drew to a close, Buckley, a man who has been knighted for services to business – although told me consistently "just call me George" before the interview began – and who has his name on both the 3M Buckley Innovation Centre in Huddersfield and the University of Huddersfield's leadership centre shared one final thought.
"We are at the cusp of the greatest change in technology and society since the Industrial Revolution. All of us on this call, and people who are interested in these issues of innovation, should begin to embrace it and take it to the best possible outcome.'
The full interview including an introduction from Bradford council chief executive, Kerstern England, is available to watch at the link below, but it's clear that Sir George Buckley having spent his career driving innovation as an engineer and then a C-suite executive believes the best is yet to come and the inaugural West Yorkshire Innovation Festival has hopefully sparked the drive which exists in him within businesses and young people across the region.
Because ultimately innovation is open to everyone.