Regional mayoral candidates make their case in studio debate
X

Register for free to receive latest news stories direct to your inbox
Register
Two candidates battling it out to become the first metro-mayor of West Yorkshire addressed some of the most important issues in a debate.
Labour candidate Tracy Brabin MP and Conservative candidate Councillor Matthew Robinson faced off in a live-streamed event, exactly one week before election day.
The event was hosted by TheBusinessDesk.com, the Northern Powerhouse Partnership and Production Park. Alex Turner, joint managing director of TheBusinessDesk.com, moderated the discussion.
Robinson outlined his ambition to establish a "Mayor's Business Board", to give business owners a direct line to key decision makers.
He said these decision makers would be able to hear what the challenges are, what companies need to grow and what these firms require in terms of employment and skills opportunities.
Robinson adding: "We must champion business, and we can do that without having new taxes.
"What we don't need is new local taxes in this region it will kill off the recovery and it will damage communities who've struggled so hard through COVID.
"I've talked about opportunity areas as well. That means bringing our universities, our businesses, our schools together, looking at the skills we need so kids who leave education, kids who leave school and university, or do something like an apprenticeship actually have the opportunity to succeed and have careers in the region.
"It isn't just about skills training, it's about careers too."
Brabin said innovators and entrepreneurs must be helped to flourish in order to employ more young people, and to make the region's high streets flourish.
She said: "I'll be setting up a manufacturing taskforce. We've been known internationally for manufacturing we can pivot to the green manufacturing that's going to be really important.
"I'll be pressing Government for our share of the Levelling Up Fund, The Shared Prosperity Fund and the COVID recovery money which we still haven't had a decision on from Government.
"It's really important that we get our fair slice of the pie, as our research and development budgets aren't big enough and our productivity is not where it should be.
"This could be an opportunity to get our green economy going, through working with businesses, ensuring those opportunities are there for young people.
"That's why I'm committed to 1,000 jobs for young people through my 'Green Gateway', where those young people will have an opportunity to work in Green Business, SMEs and Co-ops across the region."
Robinson said the elected mayor must innovate and not simply look to replicate initiatives in successful economic hubs such as Manchester.
"It's about working with businesses, working with start-ups, and that means, the mayor needs to be in communities listening to business," he said.
"I will be out week-in week-out within West Yorkshire, meeting businesses, finding out what's going on, finding out what the challenges are, how can we improve it, then taking that back to Government and to the decision makers in the board in Leeds.
"That means also working with departments like the International Trade Department, looking at how we can take West Yorkshire global, looking at how we can work not just in West Yorkshire but in the world."
Enlarging on her vision for revived high streets, Brabin said some places have shown there is a way for independent concerns to compete with online giants.
"I've seen great work in places like Hebden Bridge, where they are tackling the behemoths of the online deliverers and delivering from click and collect locally," she said. "These are the sorts of strategies that will help our high streets.
"But also it's about making high streets attractive for families to linger and to spend time making them destination whether that's for art or culture in the high streets, whether that's water fountains or a greener high street."
Both candidates were quizzed about where they stand on what should be done to strengthen the region's transport.
Robinson said the HS2 railway link can help deliver investment and jobs, but will not be effective in isolation.
"HS2 alone isn't a silver bullet for our region," he said. "The mayor needs to be making sure they are championing connecting transport, they need to be championing the bus network, Northern Powerhouse Rail and making sure there is that 'last mile' for people getting home.
"It's all well and good talking about HS2 Leeds to London, but locally there's more we can do."
Brabin spoke in support of HS2, but emphasised other parts of West Yorkshire's transport network also require attention.
She said: "I've been making the case that HS2 is a good thing, but it is not an 'either or'.
"We have to make the case to Government that if they keep talking about levelling up, they must understand the transport network is broken in West Yorkshire. Our bus services are broken.
"As a Member of Parliament for towns and villages, I know how hard it is to get across our region.
"So it's about Northern Powerhouse Rail, it's about getting an intercity stop in Bradford, it's about getting connectivity to Sheffield, and making sure our bus network works for people, and not profit."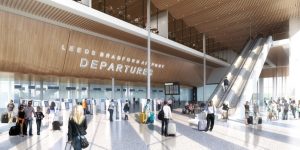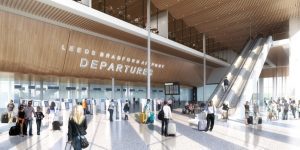 The controversial topic of the Leeds Bradford Airport expansion was also on the agenda, with both candidates saying they were in favour of a new terminal.
Robinson said: "What we need is a zero carbon terminal with better public transport access that brings jobs and investment to our region as a symbol for our ambition and for our growth,
"But it was the Conservatives on the council committee who made sure that they put in an amendment that meant the airport had to deliver its new terminal before they could get any new flights,
"I'm not a fan of 24/7 flights coming from the airport, so we need to hold them to account for that."
Brabin said: "Yes, I support the [new] terminal. I think it's a good move because it's a zero carbon building which is better than the building there now.
"If we want international students to come to our great universities, the airport is an important gateway and that gateway should look good, it should be green and should have proper transport to it that doesn't impact on neighbours.
"Certainly those people who live under the flight paths need to be listened to and to be consulted."