Sweets, snacks and drinks importer tastes success after wrapping up investment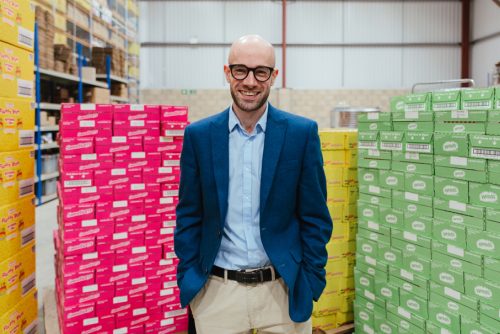 Candy Hero, an importer and distributor of branded sweets, snacks and drinks, has seen growth following a £250,000 investment from NPIF – Mercia Debt Finance, managed by Mercia and part of the Northern Powerhouse Investment Fund (NPIF).
As a result of the NPIF loan in September 2020, the Bradford-based business has increased stock lines, fulfilled growth plans and satisfied working capital needs.
In the process, it has successfully created five new jobs and has been able to safeguard a further three existing roles.
Founded in 2008 by brothers Frank and Leo Dillon, both former web designers, the business has quickly grown in size and now stocks one of Europe's largest ranges of mainstream American candy.
It also sells British retro sweets, energy candy, Jelly Belly, Japanese snacks, gifts, and other novelty and specialist items, boasting a range of over 20,000 products.
In 2020, sales at Candy Hero grew 68% and are on track to surge again in 2021, with a further increase of 30%.
Much of this new demand came from EU countries outside of the UK, as the business continued its expansion in these new markets.
Frank Dillon said: "It was a really simple process dealing with NPIF and David Wright of Mercia, and this loan has made a real difference to our business.
"We're growing consistently year-on-year and the demand for our products has increased significantly during the pandemic, so it's been important to keep that momentum going.
"Turnover has doubled over the past year and this loan has allowed us to take on more staff to manage demand, increase our range and push further into Europe with sales now across 25 countries."
David Wright, investment manager at Mercia, said: "Candy Hero are a really successful business that has undergone major change across the past 12 months, with demand for their product range only going up.
"It's been a pleasure to work with their talented team, creating jobs in what has been a difficult time for many people in the region, and I look forward to following their growth journey across the coming years."
Sean Hutchinson at British Business Bank added: "Candy Hero is a growing international business that is creating new jobs and opportunities in the Leeds City Region community.
"Seeing NPIF supporting companies like Candy Hero is great to see and it's one of the many kinds of business that NPIF was launched to support.
"As the country looks to bounce back post-pandemic, it's vital we continue to provide investment options across the Northern Powerhouse so that businesses are able to hire staff, purchase machinery, move premises and most importantly fulfil their potential."