People: EY; Andrew Jackson Solicitors; Razor; and more
EY has appointed two new senior hires in its Corporate Finance team in the North of England.
Richard Pulford joins EY from DC Advisory, where he spent 13 years growing and leading the firm's North West team.
Prior to that, he spent 11 years in PwC's Corporate Finance team across London and Manchester.
He has nearly 25 years M&A experience, advising on over 100 completed transactions, worth over £7bn.
Rebecca Rennison joins with over 20 years of M&A experience working across large private equity and international strategic trade transactions.
She previously led the PwC Yorkshire Corporate Finance team and prior to that was a managing director in Investment Banking at Raymond James in Canada, where she worked for 15 years.
Pulford and Rennison will work together with Mark Clephan to lead the team as it continues its ambition to become the leading Corporate Finance practice in the region.
Clephan, corporate finance partner at EY in the North, said: "I am delighted to welcome Richard and Rebecca into the team. They both bring a wealth of experience in M&A space and together we can build on, and accelerate, the successes of the past few years.
"Our continued significant investment in senior talent reflects not only EY's ambition in the North but also our confidence in the long-term outlook for the regional economy."
Stephen Church, EY's north markets leader and office managing partner for Manchester, said: "I would like to welcome both Rebecca and Richard to the team.
"Their presence here in the region allows us to further expand our offering and build on our strong credentials within this area of the market.
"I'm confident their expertise and leadership will strengthen our footprint in the North and ensure we have local people working on local transactions."
:::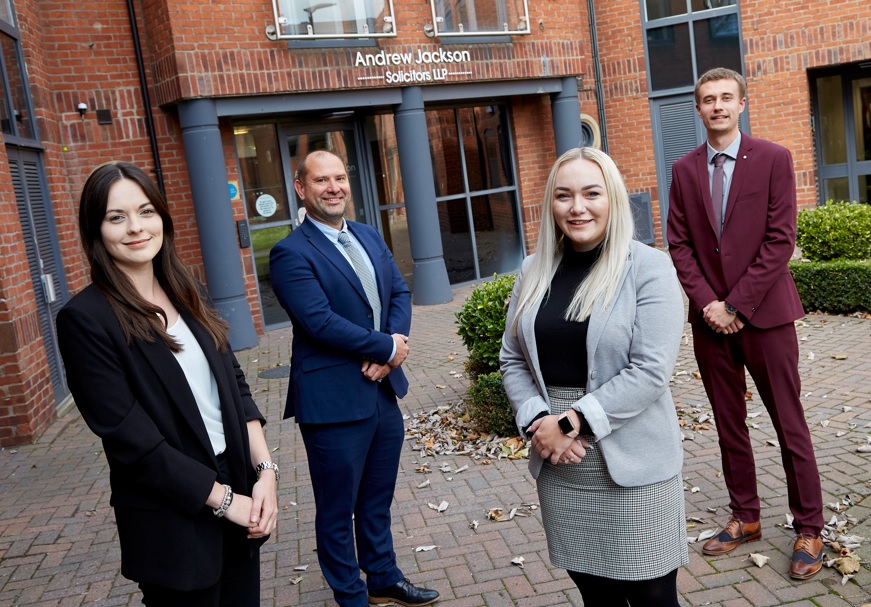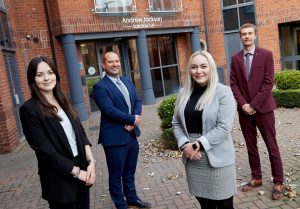 Regional law firm Andrew Jackson Solicitors is continuing to grow with three paralegals joining the firm in recent weeks, strengthening the client services offer across the region.
Benn Shilleto will assist the corporate team across a range of matters including the completion of legal due diligence procedures for company acquisitions and disposals, and the drafting of other completion documents.
Shilleto also has experience of advising on the formation of new companies, including the requirements of post-incorporation formalities and shareholders' agreements.
Hayley Neal, who has joined the property department, will provide valuable assistance across a broad range of commercial property transactions, including matters of greater complexity.
Abigail Young will assist the litigation team across a range of substantial commercial litigation, professional negligence and regulatory matters.
Andrew Jackson's managing partner, Mark Pearson-Kendall, said: "As demand for our services continues to grow across the region and beyond, I warmly welcome Benn, Hayley and Abigail to the firm, all of whom have shown their commitment to assisting our clients with their legal requirements."
:::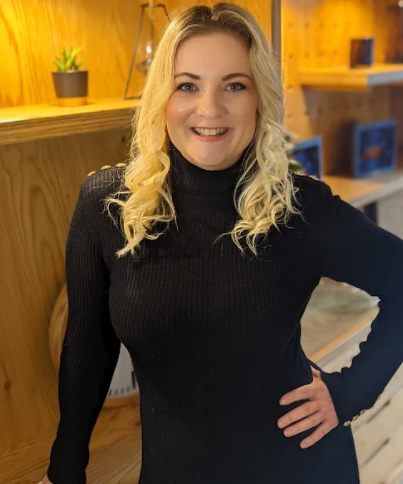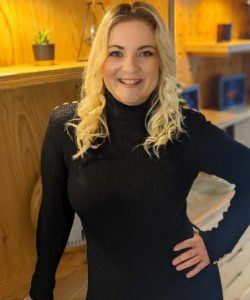 Sheffield-based technology specialist, Razor, has appointed Kristal Ireland as its new managing director.
A well known figure in the Northern digital and technology scene, Ireland has been appointed to lead the technology futures business through its next period of growth and to work with its existing and emerging partners to build the company's Northern network.
Initially established in 2009 as a start-up, Razor has doubled its turnover in the last 18 months, despite the ongoing pandemic. The firm's second office is due to open in Leeds in the next few months.
Ireland's extensive experience in digital marketing, technology and digital brand strategy makes her an invaluable asset to Razor as the company enters the international arena.
She has worked with high-profile brands such as Virgin, LNER, NHS, BT and, coupled with her previous role as digital director of UK Coaching, brings a wide-range of market awareness and years of experience to her new role.
Ireland said: "It's a fantastic time to join Razor and lead such an exciting company as we enter our next phase.
"I wanted to work at the absolute bleeding edge of technology with the best team of people around and I'm here to ensure our culture is at the front of our thinking and that we are a truly 'people first' technology company.
"We have ambitious growth plans and my extensive experience in technology means I can bring a wealth of knowledge to ensure Razor is at the forefront of the latest technology trends.
"We are fortunate to work with an array of innovative and bold clients and partners, we take on technology projects other people may shy away from and we deliver only the best technology solutions."
CEO and co-founder of Razor, Jamie Hinton, said: "Brilliance starts with brilliant people – we're delighted to welcome Kristal to our Razor family.
"Razor sits at the cutting edge of digital tech and is known for unique, clever, strategic thinking and innovation, so we know Kristal will fit right in – bringing a huge range of experience to be an amazing addition to the team.
"We're entering a really exciting time for the company and Kristal will be invaluable in her ability to take Razor from strength-to-strength in the future and build on the growth we're already experiencing."
:::
CPP Group, a Leeds-headquartered provider of personal protection and insurance products and services, has appointed Simon Pyper to the position of chief financial officer with effect from 1 January 2022.
Pyper's previous roles include CFO and CEO of Be Heard, a specialist media agency, and before that as CFO of Global Data Plc and Datamonitor Plc.
He has also held various financial and commercial positions with Musgrave UK and the Arcadia Group.
He is a member of the Chartered Institute of Management Accountants and holds an MBA from Henley Management College.
Jason Walsh, CPP Group's CEO, said: "I'm delighted to be able to bring someone of Simon's calibre to the business.
"His varied background across multiple sectors will be a real asset to CPP as we look to take the business to its next level of growth.
"I'm looking forward to welcoming Simon to the team and to focusing on delivering value to our business partners, their customers and to our shareholders."