Return of airline passengers 'couple of years away' despite pandemic high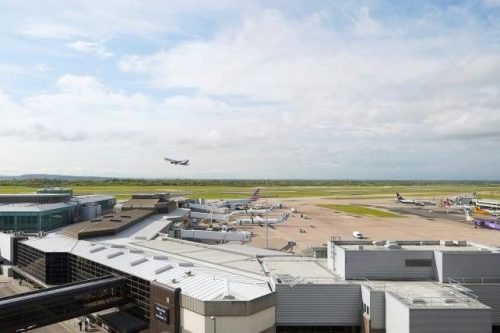 Airline travel reached its highest level in the UK last month, but passenger numbers remain about two-thirds below the pre-pandemic levels.
Most UK airports have enjoyed five consecutive months of passenger growth since restrictions began to be eased in April.
International airports including Heathrow, Manchester and Birmingham, as well as regional airports such as Leeds-Bradford, Doncaster Sheffield, and East Midlands, all recorded their best month for passengers since February 2020 – the last full month before Covid-19 travel restrictions were put in place.
New UK airport data for September, supplied by 41 of the 49 airports, showed an average 6% increase on August and implies the complete data will show around 10m people travelled last month.
However that would be 18m lower than September 2019, highlighting the scale of recovery that remains for the travel sector.
London and the south east had the strongest performances from the larger airports. Heathrow, with 2.6m passengers, and Stansted, which had 1.1m, were 62% and 57% down on the same month two years ago. Manchester, Birmingham and Leeds-Bradford were all down 67% on the numbers welcomed in September 2019.
Manchester Airports Group (MAG), which owns and operates London Stansted, Manchester and East Midlands airports, says it "hopes to see the start of our recovery continue" both with passenger numbers and cargo, which is a big part of its East Midlands operation.
A spokesperson said: "We know that there is significant demand for international travel since restrictions have loosened and our airlines will be working to ensure their services for next summer match that demand. Some carriers have even commenced new routes, for example Aer Lingus and their newly launched serviced to Barbados from direct from Manchester Airport."
MAG is "confident" that the increase in passenger numbers will continue but are not expecting everyone to make a quick return to international travel.
They added: "It remains likely that it will be a couple of years before we see the return to pre-Covid passenger numbers, but it is positive to see that consumer confidence is returning, and that is why the Government must work towards a plan for the full removal of international travel restrictions at the earliest opportunity."
Leeds Bradford Airport has handled 348,000 passengers in the last three months, which was more than in the previous 15 months.
A spokesperson for LBA, said: "We've been delighted to welcome a noticeable increase in passenger numbers following the removal of travel restrictions and relaxation of testing requirements inbound and outbound for the UK."
There are hopes that the recent easing of travel restrictions and the replacing of day two PCR tests with lateral flow tests will maintain momentum through the winter and beyond.
They added: "The expectation for the upcoming winter season is a strong uptake of seasonal holidaymakers making the most of a boosted schedule of flights to destinations old and new.
"However, the true test of long-term consumer confidence will be summer 2022. With plans firmly in place with partner airlines to deliver a bumper season of international travel, we are looking forward to an incredibly active year in 2022."
Airlines are also gearing up for increased demand. Leeds Bradford's largest operator, Jet2, has added capacity for winter while Wizz Air plans to offer more than 1.5m seats at Doncaster Sheffield Airport next summer as it looks to long-term growth.
Marion Geoffroy, Wizz Air UK managing director, said: "Wizz Air has defied the industry-wide downturn with the expansion of operations in the UK, including the launch of two new bases in the past year. With the addition of a number of A321 neo aircraft to the fleet in Summer 2022, we are focused on accelerating growth over the coming years."