American investors look to score with football club deal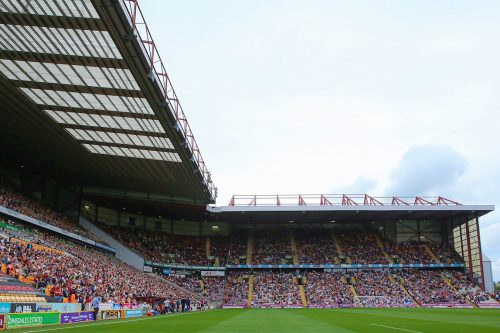 A group of American investors called WAGMI United has said it is in advanced stages of purchasing an English Football League club, with online reports suggesting the team in question is Bradford City.
The investment group has said that its plans for the club rely on advanced analytics and non-fungible tokens (NFTs) to create a new model of sports team ownership. With the ambition to make the team "Crypto's Club", with a fan base and community of online investors alongside traditional supporters.
If the deal which was first reported by the Washington Post, goes through it is believed it would be the first acquisition of a sports team with cryptocurrency serving as a major source of funding.
The group, which has said the deal could complete within the month, is led by Preston Johnson a sports gambling analyst and Eben Smith a former derivatives trader who is now working in the NFT arena. Other investors include Philadelphia 76ers' team president Daryl Morey and social media star Bryce Hall.
Commenting on the deal Smith who refused to name the club in question told the Washington Post: "The EFL has proven to be surprisingly progressive in our conversations with them and they're excited by the outsized interest we hope to bring."
Johnson added that the traditional model of club ownership doesn't work, stating: "Owning a club is kind of like a dream as a kid, right? So this is our chance, and it's kind of the perfect time. Everything's hitting exactly right with what we can do with digital branding and communities and crypto."
The deal is expected to see WAGMI United offer fans a piece of the club – thought to be The Bantums – by allowing them to buy NFTs, in a similar vein to being able to buy traditional shares in the club.
Smith however emphasised that the group is "not selling securities" when speaking to the Washington Post, but "a collectible that comes with certain intellectual property rights that previous collectibles did not".
He added that unlike established sports brands like Manchester United, the group would be "starting from scratch," allowing it to be "riskier in what you allow your brand to become. Then you can work with your community to figure out what it is together."
In an online announcement via social media, the investment group spoke to a number of fans with one noting that they did not over promise but "sounded like they were going to commit to instant investment and change at the club" and remained coy about naming which club they were in talks with.
This potential deal could be timely with The Bantams' current owner Stefan Rupp reportedly looking to sell the club which doesn't own its ground, Valley Parade or training ground, for c.£10m