Award winning developer talks growth and attracting top talent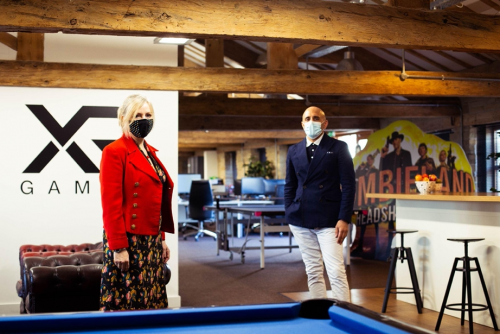 Award winning virtual and augmented reality developer XR Games, which was recently selected to be part of the UK Government's 'Made in the UK, Sold to the World' campaign, is now planning growth but told the West Yorkshire mayor that finding the talent it needs for further success locally is not always possible.
Tracy Brabin, mayor of West Yorkshire, sat down with XR Games founder and CEO Bobby Thandi, to discuss XR Games growth plans and how the company is best placed to support the local community with new job and training opportunities.
The developer has experienced an incredible period of growth over the last couple of years, in no small part down to the worldwide success of its latest game, 'Zombieland VR: Headshot Fever', which was coded in Leeds, and has since been downloaded in 175 countries around the world.
Since then the business has gone on to raise £1.5m from the Northern Powerhouse Investment Fund last year. Thandi sat down with TheBusinessDesk.com in early 2020 to talk about the journey XR Games has been on since it launched in 2017 with an initial £100,000 investment.
Brabin, who has talked multiple times about the importance of the creative industries and the digital economy since she was elected last year and has plans for a Creative New Deal designed to build on the success of businesses like XR Games said: "Born in Bradford, Bobby Thandi chose to stay and build his company right here in West Yorkshire, proving that we can be the kind of region that nurtures entrepreneurs, pioneers new technologies and takes on the world."
Following the success of Zombieland XR Games' focus is on further growth and Thandi aims to double capacity and scale with new job roles across the business.
He said: "The international success of Zombieland VR and our huge growth over the past 12 months means that trying to find the best talent is crucial to our future success. We'd absolutely love to be able to find this talent locally, but that's not always the case.
The mayor and CEO both agreed that there is a huge opportunity to upskill local people for the kinds of highly technical digital roles which the developer will create. The mayor mentioned the Skills Connect initiative, that provides free training courses to help adults develop new skills in a variety of sectors, including digital.
Thandi added: ""Initiatives like Skills Connect will hopefully mean a plethora of exciting talent coming in through the door for growing businesses like ours, and with the number of opportunities we have planned in the coming months, supporting the region with new jobs for local recruits sounds like a win-win for everyone involved."
Brabin, said: "I am really looking forward to working together with Bobby on our skills offer in West Yorkshire, to ensure that anyone wanting to start a business, upskill or find a well-paid job needs to look no further than our fantastic region."