City landmark owner is listed on International Property Securities Exchange
Investment company BWP REIT PLC, owner of Bridgewater Place in Leeds, is today trading on the Wholesale Market of International Property Securities Exchange (IPSX), having raised £35m via a placing of ordinary shares.
This marks the Exchange's third successful admission and the first UK real estate IPO in 2022.
BWP REIT PLC is a newly established, externally managed, closed-ended investment company.
Bridgewater Place comprises 234,711 sq ft of commercial office space and 15,587 sq ft of retail units, with approximately 8% of the total floor area currently vacant (as of 30 August 2022).
About 77% of the total floor area is occupied by the property's three largest tenants, with global multinational law firm Eversheds Sutherland accounting for around 48% of the total floor area.
The £35m capital raised from the admission will mainly be used to carry out a wholesale repositioning of the property aimed at increasing the asset's valuation and potential for rental growth.
The new company allows investors to own a share in the prominent office development.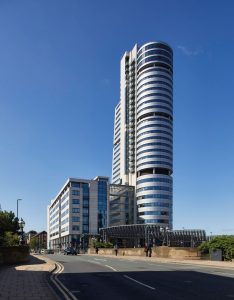 BWP REIT PLC has engaged M7 Real Estate Financial Services Ltd as its alternative investment fund manager to provide overall portfolio and risk management services to the company.
WH Ireland was IPSX Lead Adviser and Broker on the placing and offer, while market liquidity will be provided by Cannacord.
Roger Clarke, CEO at IPSX, said: "The successful admission of another security to trading on the Exchange represents a significant milestone for IPSX.
"To have achieved this floatation amidst such a challenging market backdrop for IPOs across all sectors is testament to the clear demand for opportunities that enable efficient and transparent investment into liquid, asset-backed companies via a regulated trading platform.
"At a time when liquidity is increasingly difficult to come by, the endorsement of our third issuer demonstrates the benefits of IPSX's platform in allowing real estate companies to efficiently raise capital by fractionalising their assets while still retaining ownership."
Richard Croft, executive chairman of M7, added: "The planned admission of BWP REIT PLC to the IPSX Wholesale market, following a successful fundraise, is a strong endorsement for both IPSX, as a nascent capital market for real estate and the proposed asset management and remediation strategy that is to be undertaken at Bridgewater Place.
"The acquisition of this capital compromised, but fundamentally core, asset will allow investors to take part in a major repositioning that will create one of Leeds's premier office destinations in what is, and will remain, a supply constrained market due to the current cost of construction.
"Furthermore, the equity raise has made allowance for BWP REIT PLC to tackle one of the core issues facing many freeholders and their leaseholders, namely cladding remediation.
"BWP REIT PLC will be undertaking a full remediation of the cladding without recourse to the leaseholders within the residential element of the building. This we believe will make a material social impact.
"The admission of BWP REIT PLC on IPSX Wholesale creates liquidity and transparency for investors, where previously participation in such a transaction would not allow it."