Next phase of works launched for masterplan at historic site
Enabling works have begun at York Minster following the arrival of two Portakabin® buildings to the Minster precinct.
The temporary buildings will facilitate the decant of the existing Stoneyard dating from 1914.
It will allow the creation of the Technology & Works Hub, one of the two new facilities of the Centre of Excellence, a campus providing research, education and training in the heritage craft skills which are vital for the ongoing repair and conservation of the Minster.
York Minster and Shepherd Group, owners of the Portakabin brand, have a history of working together.
York-based Shepherd Construction supported on the restoration of the Minster Tower from 1967 to 1972, when six and a half miles of high tensile stainless-steel rods were inserted into foundations of the central and western towers, forming the reinforced stress frames that stabilised the towers.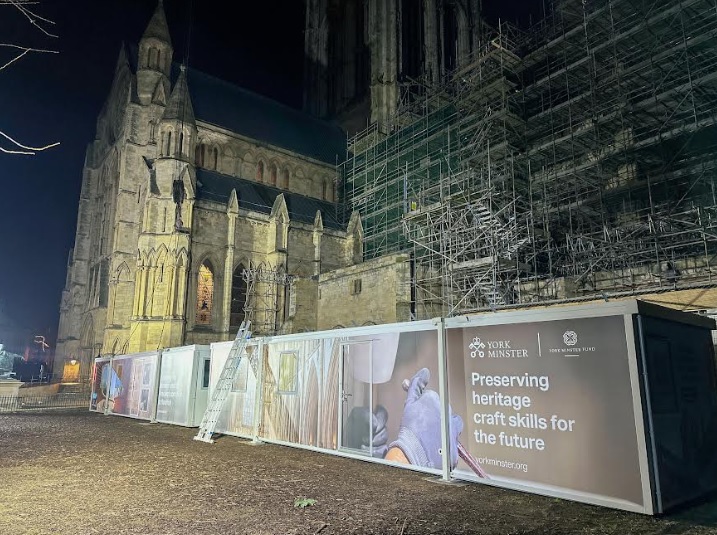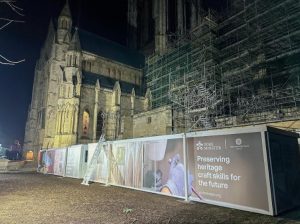 The Centre of Excellence is the pioneer project in the York Minster Neighbourhood Plan.
Expected to be finished by mid-2024, the arrival of the Portakabin buildings will allow pre-demolition survey work to begin, and will provide essential office and welfare accommodation for the Works department which is currently housed in the Minster Stoneyard.
York Minster has also submitted a planning application to City of York Council to convert and refurbish 1 Deangate in the Minster Precinct into offices and welfare facilities for its Visitor Experience staff and volunteers.
The building is currently being used as temporary facilities for some of the Stoneyard trades, and will continue to be used as such during the redevelopment of its existing facilities.
If approved, the conversion of 1 Deangate will enable the Visitor Experience team to be housed together, in turn allowing York Minster to further enhance the welcome it provides to over 700,000 visitors annually.
Alex McCallion, director of works and precinct at York Minster, said: "The arrival of the Portakabin buildings is an exciting milestone in the delivery of the Centre of Excellence and forms part of the enabling works ahead of construction starting in the spring.
"It is good to see the next project of the Neighbourhood Plan start the next stage of development as we submit the planning application for the redevelopment of 1 Deangate.
"We are particularly pleased with the net zero retrofit element of this project which, if approved, will deliver onsite energy production through the installation of solar tiles, a fully insulated building and air source heat pumps."
Dan Ibbetson, CEO of Shepherd Group and Portakabin, added: "York Minster is in the DNA of our city, and we're happy to be working with them once again.
"The ambitious plans they have match our aspirations to be a driving force behind innovative ways to support the future of construction. Heritage craft skills will play a huge part in honouring the past while preparing York and the Minster for an exciting future."