Innovation in Yorkshire leading the way in tackling food shortages
A Yorkshire business is leading the way in biodiversity innovation which will stem the flow of food shortages thanks to an ingenious invention to measure pollinators in the region, and across the UK. Supported by the Connecting Innovation Programme, delivered by the West Yorkshire Combined Authority, this new technology developed by Agrisound will enable anyone from farmers to students to deploy a device to field or window box to see how many bees, butterflies and bugs are visiting. This will improve crop forecasting as farmers use this technology to develop orchard and crop twinning enabling better and more predictable pollination. Which in turn will increase farm yields year on year – no more rationing of tomatoes!
So, how are they doing this?
Working with the Connecting Innovation team, Agrisound applied for, and were awarded a Kickstart Grant to enable them to reconfigure the commercial grade wild pollinator counting device, "Polly" for the consumer market.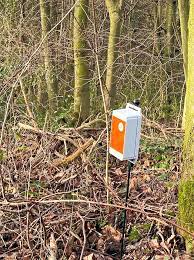 Polly automatically detects and counts key functional groups of insects using acoustic detection methods, improves crop yield & fruit quality, increases percentage of crop achieving class 1 – the highest standard for crops, and provides evidence of biodiversity for new farming subsidy schemes.
It has never been more vital to protect and encourage our declining insect populations
Without pollinators – bees, butterflies, moths, and other bugs, we would lose more than 70% of all food crops. But pollinators do much more than protecting our food security.
Pollination is crucial to maintaining healthy ecosystems by encouraging natural biodiversity, the removal of carbon from the atmosphere (from increased plant growth) and ensuring our food is jam packed full of nutrients.
Dr Casey Woodward, founder and chief executive of Agrisound, said, "When we invented Polly it was such a logical step forward in measuring and sustaining biodiversity. We approached the Connecting Innovation team when we were looking at different funding streams. Our innovation growth manager supported us to write our application for the grant and we were successful. The Kickstart Grant we were awarded has helped us to get Polly to market in a much shorter timeframe, and we really feel with an innovation like this, time is of the essence."
Accessing support for your business – Connecting Innovation
Can you see a way for your business to be more productive, retain customers for longer and increase your sales revenue but you need some support to bring those ideas to life?
Connecting Innovation can help
Innovation is not limited to products or services, it can spark from anywhere and in any part of a business. Connecting Innovation is the key to unlocking these opportunities in your business.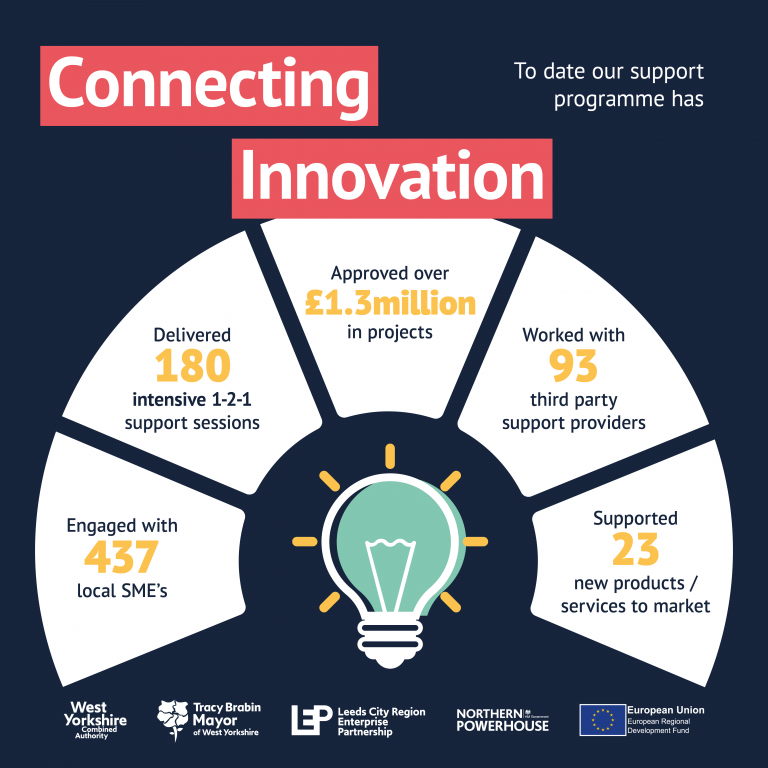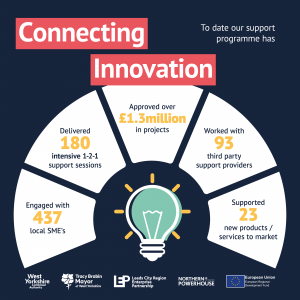 Once on the programme, you'll have access to our team who will guide you through the process. Not only are we experts in our field, but we're well connected – from incubators and accelerators to research organisations and advisory services – we know the local landscape better than anyone, which means you will too.
But that's just the beginning. Need an industry expert? We can put you in touch with someone. Want to speak with someone who's been through a similar process? We can help you make those connections. That's the beauty of Connecting Innovation – we're so deeply embedded in the local business ecosystem that you'll have a vast pool of support and expertise at your fingertips.
There's not much time left
This support comes to an end soon, however a new package of support will be available from Summer this year.
Get in touch to see how the team can support you. Email: innovation@the-lep.com