Charity status recognition accelerates plan to revitalise landmark building
Harmony Works Trust – a collaboration between Sheffield Music Hub, Sheffield Music Academy, Brass Bands England, and Music in the Round – has been recognised as a charity by the UK Charity Commission.
The trust plans to base itself at Canada House, a 35,000 sq ft Grade II* listed building in the Castlegate area.
Organisers are progressing a £13m project to restore and revitalise the building, to create a new home for music education in Sheffield. The property received Planning and Listed Building consent in 2022.
For Harmony Works Trust, the new status means it will be able to apply for funding directly.
Harmony Works will house the leading music education organisations in Sheffield and provide music education for more than 50,000 young people. Recording, performance, and practice spaces will support all types of musical development.
The team is working towards a National Lottery Heritage Fund delivery grant application which, it is hoped, will deliver £4m of capital funding.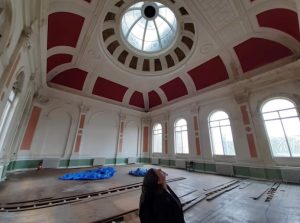 Emily Pieters, Harmony Works' project director said: "We want all young people in the region to have access to state-of-the-art facilities that can empower them to be part of this rich legacy and that is what the Harmony Works project is about.
"With our submission for the National Lottery Heritage Fund delivery grant application ever nearer, we can't wait to be one step closer to bringing everything together within Canada House, seeing it transform, creating one central hub to engage with wider audiences, and ensuring music education in Sheffield is diverse, accessible and fun for all."
Trisha Cooper, chair of Sheffield Music Academy, said: "Securing official charity status is a hugely significant moment for the Harmony Works project.
"It has been a key ambition of our collaboration since day one and we are confident it will help us achieve our long-term aspirations for creating a world class music facility in the heart of South Yorkshire."
David Hobson, trustee for Harmony Works, said: "This important milestone is further evidence of the momentum Harmony Works is building with partners across the city and wider region, like that of the Advanced Manufacturing Innovation District and the Sheffield Olympic Legacy Park.
"Harmony Works is just more evidence of Sheffield being home to some truly transformational projects that will make a difference to not only the economy in our region but to the lives of many across the city."
Professor Karen Burland, trustee for Harmony Works and chair of Sheffield Music Hub, added: "This is such an exciting step in our mission to share the joy of musical learning with young people across the city.
"Harmony Works Trust brings us closer to placing music education at the heart of the city, where it can be accessed and enjoyed by people from all over the city, and embedded in the cultural life of Sheffield."