Council assesses alternatives for Broadmarsh as contractor offers 'no comment' on return to work date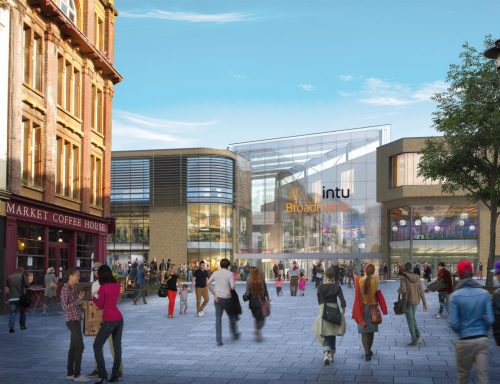 The construction company behind the stalled redevelopment of intu Broadmarsh shopping centre in Nottingham says it has no comment to make on when work might restart again on the scheme.
Sir Robert McAlpine, the construction giant, won the contract to rebuild the mall almost three years ago, but since its workers left the site after lockdown restrictions were announced on 23 March, the site has remained empty.
When asked when its workers would reopen to the site, a spokesperson for Sir Robert McAlpine said: "I'm afraid we won't be commenting at this time."
intu has been experiencing huge financial difficulties. Last week said it is pursuing standstill agreements with its financial stakeholders in order to protect itself from a hostile takeover.
The move comes after the firm said it was likely that it would breach covenants with lenders and that the prospect of any external investment had diminished, creating "material uncertainty" for any asset disposal or funding.
A standstill agreement is a contract that contains provisions that govern how a bidder of a company can purchase, dispose of, or vote stock of the target company. It can effectively stall or stop the a hostile takeover if the parties cannot negotiate a friendly deal and it comes just weeks after reports that the bondholders of debt secured against four intu shopping centres – including the Victoria Centre in Nottingham – were considering taking control of the assets.
The shopping mall redevelopment is the jewel in the crown of a £2bn regeneration scheme around the Broadmarsh area, but Nottingham City Council has now told Nottinghamshire Live that it is assessing its options in light of intu's woes.
Councillor David Mellen, has said: "We're in a pause situation with Broadmarsh centre, but we're also bearing in mind the fact that the company Intu is in some difficulties.
"We are in negotiations with them, looking at our own position in terms of contracts we've signed and being aware that not everything we planned can continue in the way we planned it.
"In the background we are thinking and considering what else could take place.
"We know how crucial that site is to the whole of the south side redevelopment.
"But we're not going to be going down that route until we're clear that there aren't any ways of that work carrying on under the present regime.
"So we need to make sure we are doing everything we can to keep with the current arrangements, whilst having an eye to what might happen if we can't do that."