Webinar playback: Time for SMEs to press the reset button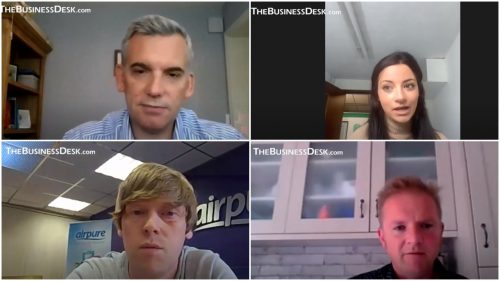 Businesses are "pressing the reset button" after a phase of "pause and pivot" – that's according to one SME finance expert who said that while uncertainty is "scary", he is optimistic for the future of the nation's businesses.

Ian Workman, managing director, co-head SME UK, Barclays Business Banking, was speaking on our latest webinar, Refocus for recovery – how business leaders can lead the fightback.
He was joined by Fran Bishop, owner of children's clothing boutique chain The Pud Store, and Robert Keeling, managing director of AirPure, which manufacturers air fresheners.
Workman said: "Businesses have embraced the digital age over the last four months, and that's been healthy to see.
"What's also been remarkable is the amount of funding we've witnessed. Barclays alone has lent around £7bn of money. What's been interesting to see is that business owners are being prudent and putting into their bank accounts rather than spending it."
Click here to watch the full webinar
Bishop said that her company, which had traditionally concentrated heavily on its high street stores, had seen brisk trade through its website since the lockdown was enforced in March.
She added: "For the last four or five years I've been reiterating that I'm passionate about the high street. That's not changed. We only went online in April, but, if anything, the lockdown has been a blessing in disguise for our business. We're now busier than ever and that's come through 100% organic growth; we've not done any pay-per-click advertising or marketing, but the last four months have shown a real untapped potential."
Click here to watch the full webinar
For Keeling, the process has been a learning curve on how to manage his supply chain.
He said: "At the beginning of lockdown, we ended up air freighting component parts from China and the price increased due to demand. We'll certainly be reviewing our supply chain as people took advantage of the situation. Sadly at times we're at their mercy – buy it or not – and if I don't have it iI can't produce a product, if I can't produce a product I can't pay my staff. Bu it's really calmed down now.
"Our business is in good shape and cash is flowing into the economy. Although I think if we had a second wave and another three or four months of lockdown things would be a lot different."
Workman said that planning and learning from the last few months was essential for business owners.
He added: "It's time to press the reset button. My advice is to take this opportunity to look at the business; what is working well, what isn't. Reflect on the last four months and that will set you up for a supercharged start."