Controversial plans to extend student accommodation scheme set for vote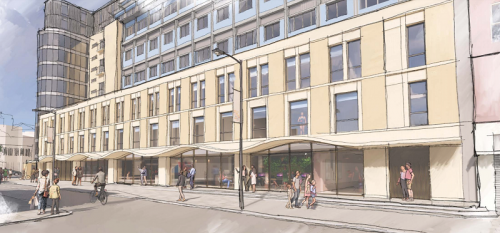 Controversial plans to expand a student accommodation scheme in Nottingham's Sneinton Market area have been tipped to go ahead by city council planning bosses.
iQ Student Accommodation wants to extend its iQ Exchange Nottingham scheme with the addition of 85 beds, TheBusinessDesk.com has learned.
The work will also include additional student communal areas and a refurbishment of the retail space fronting Sneinton Market in a move that will increase The Oval – the newer part of the scheme – by two storeys.
iQ Student Accommodation says the plans will regenerate the existing street frontages to Gedling Street, Boston Street and Brook Street, "creating a more interactive street environment and greater safety and security through increased passive surveillance".
However, a petition against the expansion of the building gained almost 5,200 signatories. The organisers of the petition said the scheme would mean that independent traders in Sneinton Market would face "an uncertain future" and dubbed the scheme "creative slaughter".
A statement on behalf of the student accommodation provider says: "[The scheme] will provide a catalyst for continued regeneration around Sneinton Market including strengthening connections between the city centre, the site and the wider area to the east, using the site's location as a gateway site."
iQ is one of the largest providers of student accommodation in the UK, owning and operating 28,000 bedrooms across some 67 sites in 27 cities. Some 83% of its portfolio is in 'Russell Group' university cities.
Nottingham City Council's planning committee will decide on the future of the scheme when it sits next Wednesday (23 September).