'Have a good work ethic and the success will come'
Managing director Karl Severn joined Office Innovations in 1996. During his first decade with the company, it sold furniture; however, as the firm's client base increased, it was asked to do undertake supply and install projects which eventually evolved into the fit-out company it is today, providing full turnkey solutions.
---


Variety drives me on. The best thing about my job is meeting different businesses and working with them to create a quality and creative new space for their employees to work from. We begin by discussing their brief and grow their ideas into a reality which works for them and their company. Then when we hand over the premises its great hearing their feedback as it gives us pride in what we do and helps us develop our business.
Flexibility has become key for our clients. Currently our main focus is to help our clients refurbish their existing workplaces in anticipation for their employees returning to work safely and to feel safe in their new environments, working closely with our suppliers to find the best solutions to the issues that arise. In this we have seen an opportunity to redesign the way the company works and look at a flexible work / life style that treats the office as a work hub, allowing employees to come and go as necessary but also a place that they can feel comfortable to stay and work.
We're ready for whatever comes next. We know there will be difficult times ahead due to Covid-19 but I believe that we are in the best position not only financially but with staff levels to cope with whatever is thrown at us over the next few months.  It's difficult to see an ideal situation where we learn to live with the virus and it could be detrimental to many in our industry but we are continuing to work with companies to developing strategies which should minimise the spread and encourage their employees to come back to work
– Do you (or your company) have a phrase or motto that you use or rely on, and why does it resonate with you?
We create space for success. We pride ourselves in designing, creating, and delivering quality office environments. Each of our team know and understand this phrase which we believe drives us to provide the best service, making sure everything we put in to the project will in turn help our client and their employees succeed at what they do.
Have a good work ethic and the success will come. I have always kept this at the back of my mind and have seen the result. We look for that spark in each of our team as well and the outcome speaks for itself.
Support at home has been vital. My wife Michelle was very supportive of me leaving a very stable position at Boots and starting out in business with a supplier, originally supplying office furniture. We have been in business for 25 years and she has been at my side all the way.
Relaxation to a tee. My passion is golf, I'm a member of a local golf club at Stanton on the Wolds. I also enjoy spending time with my wife and going on holidays… not this year unfortunately…
---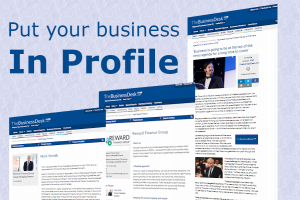 Appear in your own In Profile feature by signing up for a Business Profile on TheBusinessDesk.com.
The company and individual profiles on TheBusinessDesk.com are designed to help our clients build corporate and individual awareness within the regional business community and benefit from TheBusinessDesk's traffic and visibility in the business community and the search engines.