Work completed on £2.1m modular social housing scheme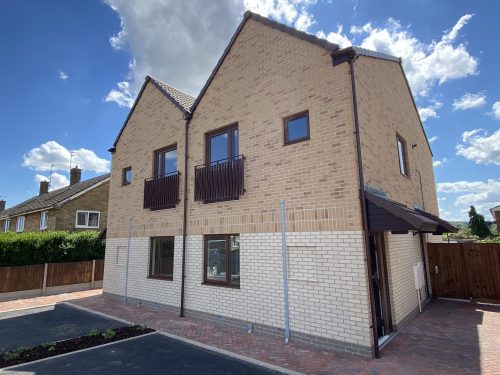 Contractor G F Tomlinson has completed works on a modular housing scheme in Grantham, which is the first of its kind in the region.
Delivered for South Kesteven District Council, through the Scape Regional Construction framework, the scheme comprises two modular housing developments valued at a total of £2.1m, which will provide social housing to meet the current requirements of the local authority.
Work started at the two developments – Kinoulton Court and Earlesfield Lane – late last year and the plots were completed in summer.
Craig Stopper, framework manager at G F Tomlinson, said: "We are pleased to have delivered these critical modular housing developments in the region to facilitate the fundamental need for social housing for South Kesteven District Council.
"The modular housing plots were completed on-time and to a high standard which is a testament to our project teams and local supply chain partners, who have quickly adapted to the new guidelines which have been introduced as a result of the pandemic, to ensure safe working and social distancing on site.
"We are certainly seeing an increase in the demand for modular construction as an energy efficient, comprehensive solution for social housing, that provides high-quality, affordable, easily accessible and adaptable accommodation. As modular sites are relatively unaffected by environmental delays such as bad weather – less logistical transport is required for materials, which is more environmentally friendly and generates less waste."