Pet food manufacturer eyes tasty expansion with new premises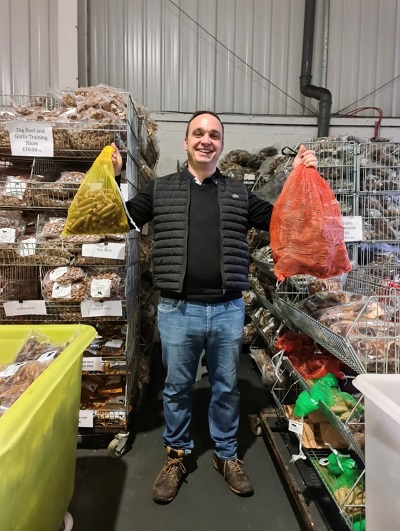 A Midlands chef who struggled to find healthy treats for his dog so set about manufacturing his own products, has moved into commercial premises with support from Barclays.
Burton-on-Trent-based Pet Treats Wholesale has moved to the 11,000 sq ft site at Derwent Park in the town.
The business was established by Dominic Jolivet in 2011 who initially trained as a chef, influenced by his French father who supplied meals for 10 Downing Street and the Ministry of Defence in the sixties. Dominic was frustrated with the range of dog treats on the market and set about creating his own healthy products and quickly found businesses to sell his treats to for onward sale at dog shows and events.
The pandemic clearly saw a temporary halt to these types of events and Jolivet moved to sell online direct to consumers.
He said: "The pandemic forced me to look at my business model and I quickly identified that direct sales to customers needed to be the way forward. I have seen sales during 2020 increase by 55% as a result. The new premises will enable us to ramp up our manufacturing capacity and support the future growth of the business."
Nicola Mason, relationship manager at Barclays, said: "Dominic early on identified a gap in the market for his products. He has grown the business significantly since inception and I am delighted we have been able to support him with this purchase which will provide a great platform on which he can further grow the business."
The company employs 20 people – a figure that may grow as the company expands its manufacturing output.