Plans revealed for 40-storey skyscraper in Nottingham city centre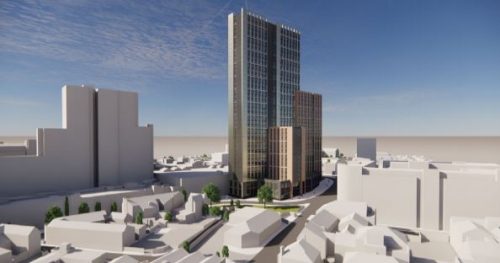 Outline plans for what could be Nottingham's tallest building have been revealed.
Code Students wants to build a 40-storey skyscraper, called Victoria Works, behind the Victoria Shopping Centre in Nottingham which would house 1,546 students.
The scheme took a major step forward in January after a contractor was appointed to demolish a building next to the Victoria Shopping Centre in Nottingham city centre.
Derby-based Cawarden has been busy clearing the site of the former Base 51 building on Glasshouse Street so that it can developed into a new scheme that has the potential to be tallest tower in the city centre.
Code Students has schemes in Leicester and Coventy and is currently building Sheffield's tallest building.
Code Students has put forward its plans as part of "screening opinion request", which stops short of a full planning application, but outlines plans and is aimed at gauging the opinion of city planning chiefs.
The Nottingham skyscraper is being designed by Leicester-based Staniforth Architects.
Images seen by TheBusinessDesk.com show that the building would dwarf the adjacent Victoria Centre flats – which are currently the city's tallest building.