'Strong lift-off' expected for East Midlands economy
A combination of restrictions lifting, pent-up consumer demand, accumulated excess savings and a range of government incentives are expected to spark a strong lift-off for the East Midlands economy by 2022.
This will see the region's GDP grow by 6.3% in 2021 and 4.8% in 2022, allowing the economy to reach its pre-Covid level by Q1 2022 according to the latest analysis in KPMG's UK Economic Outlook.
The contraction the East Midlands suffered last year was mainly caused by falls in manufacturing, wholesale and retail trade, says the report. However given manufacturing operations were not restricted after the first lockdown, recovery was able to begin. The region's large manufacturing presence is likely to benefit from the increased demand for investment, as well as the introduction of the super deduction allowance on plant and machinery introduced in the 2021 Budget.
The outlook for all regions and nations of the UK is one of a recovery in both 2021 and 2022, although at varying speed, with strongest growth expected in the West Midlands, London and the East of England. This reflects the uneven impact of the pandemic across sectors and regions, with a relatively quick bounce-back in manufacturing leading much of the early gains in output. However, as the economy re-opens and restrictions lift, the shift towards a services-based economy will resume across most of the UK.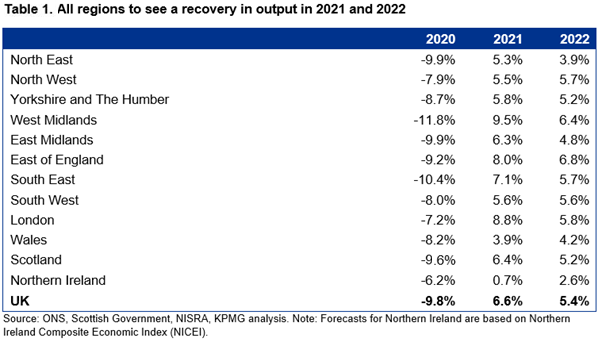 Marc Abrams, East Midlands office senior partner, said: "Our latest analysis shows that the East Midlands' pace of economic recovery is accelerating as restrictions ease and looks set to do so at a quicker pace than the majority of the UK's other regions. The challenges of the last 12-18 months have impacted everyone in some way, shape or form, with sectors such as tourism, hospitality and retail being more acutely affected than others. There's still a way to go, and as business and consumer confidence begins to pick up, recovery and growth are likely to remain the focus for many.
"One of the many great things about the East Midlands is the variety of its businesses and the breadth of skills available, which will be beneficial in enabling a broad-based recovery. The new freeport will also present opportunities for stronger growth in the long term, increasing the region's attractiveness for inward investment. Whilst there's a sense of cautious optimism, and rightly so, it's still incredibly encouraging to see that the East Midlands' GDP growth could return to pre-pandemic levels by the start of next year."