Last chance to book for this morning's export webinar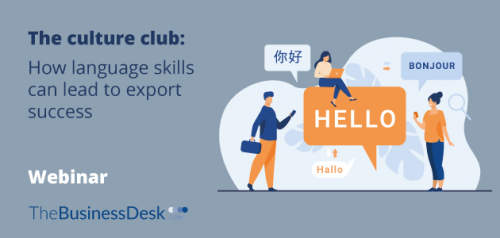 TheBusinessDesk.com is delighted to reveal details of our next webinar, to be held on Thursday 22 July at 10am, which is aimed at business looking to trade overseas.
As businesses look to emerge from the pandemic by stepping up trade overseas, new research from

Aston University has found that language capabilities are a key driver for boosting exports for UK SMEs.
SMEs have had a hard time adapting to the challenges brought on by Brexit and the Covid pandemic. However, the new research shows that language services are a very easy, accessible way to drive international growth.
To book your place(s), click here
New figures show that SMEs making use of languages have 30% better success in exporting. SMEs play a critical role in the recovery of the West Midlands economy, and their contribution increases year on year. SME companies represent 99.9% of the UK business population with six million businesses and around half of all turnover in the UK's private sector. SMEs employ 16.8 million people, 61% of the total workforce.
During this webinar, we'll ask experts from business, academia and those involved in providing professional services advice how SMEs can significantly increase their export sales, growth and profits by hiring people with language skills and high cultural intelligence, providing language training to existing staff and investing in professional translation services using sophisticated language technology.
Panel:
Raisa McNab, chief executive officer, Association of Translation Companies
Gouri Kubai, Holy Lama Naturals
Ankita Tibrewal, researcher, Aston Business School
Dr Geoff Parkes, senior lecturer and research convenor, Aston Business School
Sam Metcalf, editor, TheBusinessDesk.com