Link road to proposed HS2 hub moves a step closer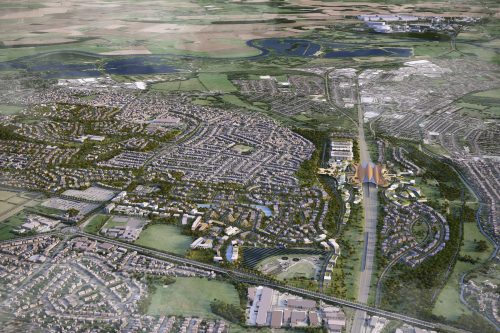 A major new road in Nottinghamshire which would link the proposed HS2 hub at Toton to thousands of new homes in the surrounding area has moved a step closer.
The Toton and Chetwynd Link Road is part of a wide-ranging regeneration project that will help unlock employment and development opportunities in the area and bring in millions of pounds to the county's economy.
Nottinghamshire county councillors agreed to move the project forward at a meeting of the Economic Development and Asset Management Committee on Wednesday (28 July).
It means early pre-construction work with Arc Partnership can begin on the scheme, which also forms part of the Toton and Chetwynd Barracks Strategic Masterplan.
Councillor Keith Girling, chairman of the Economic Development and Asset Management Committee, said: "This is a major development that further underlines our commitment to deliver key projects to bring thousands of jobs to the area and ultimately add millions of pounds to the county's economy – which is even more important after the uncertainty and impact of the Covid-19 crisis.
"The proposed start of early pre-construction work will enable us and Arc Partnership to be in a significantly better position to unlock funding opportunities and drive the Toton and Chetwynd Link Road forward, which, of course, will be an integral element of the wider HS2 hub proposal at Toton.
"The link road will help businesses to thrive, bring more sustainable investment into Nottinghamshire and help regenerate key communities.
"It is yet another example of the county council trying to secure big money investment for our economy to grow, succeed and ultimately deliver prosperity for our residents."
Plans for the new £30m scheme – to the east of Bardills Island, connecting the A52 with Toton Lane – were first unveiled in March 2019.
However, the council and its partners were unsuccessful with a bid to secure money from the Housing Infrastructure Fund – a pot of Government cash used to help build half a million homes across the country – to move the project forward.
But after receiving "strong encouragement" from the Government to continue with the scheme, the council is now working with Arc Partnership ahead of the work starting.
Council leaders say carrying out the work would boost the chances of securing funding to push ahead with the project as part of the wider East Midlands HS2 Growth Strategy, which includes the HS2 hub at Toton.
The link road will be the first phase of a scheme which could eventually pave the way for around 4,500 homes to be built as well as super connected 'Garden of Innovation'.
Pre-construction works are expected to take around five months to complete to support a new funding bid to cover the anticipated funding cost of £30m, with the initial pre-construction work costs being met by Arc Partnership and no funding from the council will be required.
Dan Maher, managing director at Arc Partnership, said: "We're delighted to be undertaking the feasibility project for the proposed Toton and Chetwynd link road on behalf of Nottinghamshire County Council, which will play a key role in the regeneration and growth of Nottinghamshire."