Historic bell foundry takes a step closer to being saved with cash boost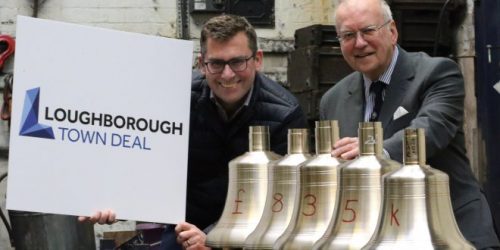 A project to save Taylor's historic bell foundry has been given a boost by the Loughborough Town Deal.
The Town Deal has confirmed funding of £835,000 to support the project to save the last major bell foundry in Britain.
It is one of 11 projects Loughborough Town Deal is backing after securing £16.9m of Government funding. In total, the projects are worth over £40m of investment for the town.
The Loughborough Bellfoundry Trust is restoring the historic Grade II bell foundry in Freehold Street to save this iconic piece of the nation's industrial heritage. Taylor's bells can literally be heard ringing around the world.
The Town Deal board is co-chaired by councillor Jonathan Morgan, leader of Charnwood Borough Council, and Dr Nik Kotecha OBE, chairman of Loughborough-based Morningside Pharmaceuticals.
Morgan said: "I am delighted that we can now confirm Town Deal funding for this project.
"As the last major bell foundry in the UK, it is vital we do everything we can to save it, not just for the town of Loughborough but also our nation's heritage.
"The bell foundry trust has done a wonderful job in securing a significant amount of funding from various sources, including the Town Deal, to save this iconic building."
Kotecha said: "I am delighted the Town Deal is investing in the bell foundry. Not only is it important from a heritage point of view but also for the local tourism economy which supports jobs and growth.
"Taylor's is a unique place and by making it more accessible we can attract more visitors to the area which supports other businesses. This is a great example of how the Town Deal benefits Loughborough and its communities now, and for many years to come."
Bellfoundry Museum director Dr Chrissie Van Mierlo said: "The entire bellfoundry team would like to say a huge thank you to the Town Deal Board for their investment. Our mission to Save the Last Major Bellfoundry in Britain is a real passion project that's been many years in the making. These vital funds have given our plans an enormous boost.
"We are incredibly proud of our town's industrial past, so we are honoured and privileged to play a key role in its future. The people of Loughborough have blown us away with their enthusiasm for our site. We can't wait to welcome them to the bellfoundry to see what it's all about."