Need funding to unlock productivity? Sign up for our forthcoming networking lunch
Businesses are facing more challenges than ever because of the impacts of Covid-19 and Brexit, with a need to regularly assess their performance, be dynamic and remain competitive. All are key to business growth, profitability and sustainability.
These themes will be the topic of discussion at our forthcoming networking lunch, to be held at midday at Bar Esca in Nottingham on Wednesday 9th March. Tickets are now available.
Productivity is one of the key drivers of economic growth and prosperity. As a region, the East Midlands is underperforming in this metric when compared to the national average.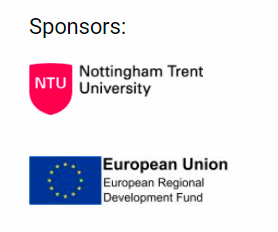 Why does improving productivity matter? Put simply by improving productivity we can earn more, raise living standards and improve the quality of life for all of us.
To tackle low productivity in the local area and to drive business growth, Nottingham Trent University (NTU) is working in partnership with the University of Nottingham and the University of Derby to deliver the Productivity through Innovation (PtI) programme, which is part-funded by the European Regional Development Fund (ERDF).
The programme gives SMEs in Nottinghamshire and Derbyshire access to a free business 'health check'. Conducted by experts at NTU, this service evaluates business performance, enabling business leaders to make informed strategic decisions on how to move forward.
Click here to secure your places at our forthcoming networking lunch
Participating businesses receive a tailored package of funded support, including access to a grant to fund a graduate's salary. They also benefit from resources, academic and technical expertise and facilities that they would not ordinarily have access to. The University then provides tailored, innovative and sustainable productivity solutions, the simplest of which often have the biggest impact.
The programme is open to SMEs in Nottinghamshire and Derbyshire. To date, NTU has successfully supported businesses in industries such as manufacturing, architecture, life sciences, engineering, pharmaceutical, IT and food and drink.
Click here to secure your places at our forthcoming networking lunch
One example of the programme in action saw NTU partner with local businesses needing to develop their supply chains in the wake of the effects of Brexit and the Covid-19 pandemic.
In response, industry experts from the world-renowned Nottingham Business School (NBS) – part of NTU – successfully delivered a series of online supply chain workshops, empowering businesses to critically assess their existing supply chains, identify areas to review and develop, and decide on new measures to introduce.
FSG Tableware,  importers and innovators of food service products with a focus on reusable and healthcare adapted dinnerware, was just one of the companies that attended our workshops.
Managing director Lynn Johnson told us: "We found the supply chain strategy support provided by NTU academic Jayne Adams to be invaluable. We worked together to develop a toolkit giving an in-depth analysis of supplier relationships, costs, quality, and risk mitigation, which I will continue to use and update on a quarterly basis. This process has given me more confidence to engage with suppliers to discuss pricing and ensure sustainable practices are adhered to, both of which are important to my vision and values as a business."
Click here to secure your places at our forthcoming networking lunch
Rob Johnson, lead NBS lecturer on supply chains (and former Global Purchasing Director at Jaguar Land Rover), said: "When businesses are looking at their future strategies and priorities for the post-pandemic world, no matter what size they are, or whether they sell goods or services, it's well worth thinking about the supply chain."
We are facing an uncertain future, and supply chains around the world are under pressure. How are you managing in these turbulent times? What is involved in adopting a more strategic approach with your suppliers, and how will this benefit your company?
NTU plans to run a supply chain workshop again in March 2022, and again in summer 2022.
Other consultancy support the University has provided includes marketing strategy and brand development; the introduction of production planning and control systems; software development and strategy; value stream mapping; product research, development and testing; process mapping, and more.
Click here to secure your places at our forthcoming networking lunch
Director Ben Thompson from sports PR agency and sector specialist Macesport is impressed by the consultancy support he received from NTU. "Complex problem solving requires expertise from a wide variety of specialist areas," he said. "And to be able to call on the help of Nigel King [NTU's Senior Lecturer in Computing and Information Technology, with 25 years' experience as a Tech Executive in Silicon Valley] and the wider PtI support has been invaluable to keep driving the business forward and future-proofing ourselves.
"It's vital to be able to surround yourself with experts who are able to dissect the challenge quicky and not only understand the technical challenge, but also the business goal, and the team have been incredible from taking a concept to delivery."
If you have a business challenge you're looking to address, we'd love to hear from you.
Email PTIadmin@ntu.ac.uk or visit www.ntu.ac.uk/pti if you'd like to apply or find out more.