First phase of £1.5bn regeneration scheme nears completion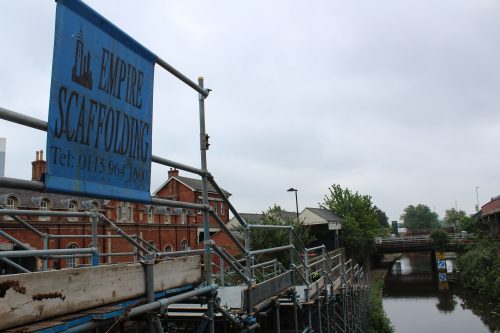 The Great Northern Close path alongside Nottingham Canal is set to reopen as the first phase of the city's £1.5bn regeneration scheme The Island Quarter nears completion.
The temporary pathway and supporting scaffolding, which has provided an alternative access route to the canal towpath since early 2021, is being removed to reinstate permanent access.
The Great Northern Close path was closed to enable the safe completion of the 36-acre site's first phase, the restaurant and events venue Canal Turn.
Work to restore permanent access to the path will begin today (16 May) and complete on Wednesday 19 May.
Richard Watson, part of The Island Quarter's project delivery team, said: "We are delighted to be reopening The Great Northern Close path as we near completion of Canal Turn. As part of the construction works, stepped access to the east side of the canal towpath was closed to improve long-term accessibility via the path and ensure public safety during the construction works of the wider site.
"We would like to thank the public for their cooperation, by using the alternative access provision, while we have undertaken the work on Canal Turn.
"We also wish to express our gratitude to the Canal & River Trust and Nottingham City Council for their support with our project works – helping to provide safe alternative public and cycle access provision onto and off the canal.
"Thanks to the hard work of our project team, we are excited that, for the first-time, once Canal Turn is fully open there will be step free access to the towpath from Great Northern Close to the River Trent. We look forward to welcoming cyclists from the towpath to our new restaurant space, Binks Yard, soon."