1500-home sustainable scheme gets underway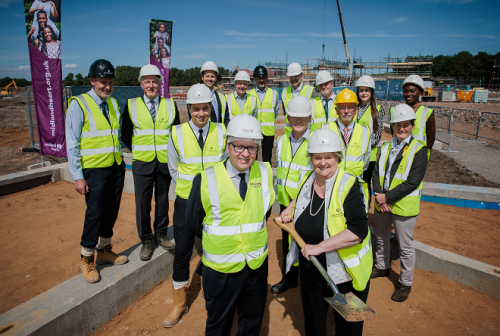 Work has begun on 400 affordable homes on the site of a former power station which will eventually form part of a larger sustainable development.
The properties are part of the 1500-home Dracan Village scheme in Drakelow Park, Burton-on-Trent, which is expected to transform the brownfield site and wider area.
Countryside is working with housing association Midland Heart and Sigma Capital Group to deliver the new sustainable community.
The development is located within walking distance of Burton town centre.
Countryside and Midland Heart were joined on site by Heather Wheeler MP and representatives of South Derbyshire District Council and Derbyshire County Council to officially mark the beginning of the project.
Frank McArdle, chief executive of South Derbyshire District Council, said: "Today marks the start of a major and long envisaged regeneration project, the aim of which is to create a sustainable community development in the south west of the District of South Derbyshire."