Fast-growing brickwork business wins gig on major student scheme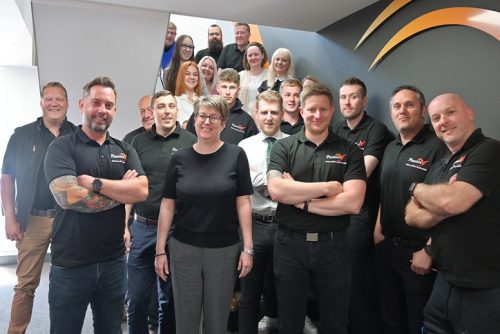 An East Midlands-based brickwork, scaffolding and drywall company has made a raft of new appointments after securing a pair of major contracts in Nottingham and Lincoln.
Phoenix Brickwork, a £25m turnover business headquartered in Pinxton, employs 62 staff across its Derbyshire and Northampton offices.
The firm has seen its staff count increase by 44 percent this year, aided by the arrival of 17 new apprentices.
Now, the company is set to design and install a bespoke steel framing system and external sheathing boards at Unite's new 700-bed student accommodation scheme on the University of Nottingham's Jubilee campus.
The new block, which was designed by Broadway Malyan, is scheduled to open in time for the 2023/24 academic year.
Phoenix is also set to rejuvenate the brickwork at St Christopher's Primary School in Lincoln.
The work is designed to improve the provision of the school's special needs and disability education and is part of an £85m nationwide investment.
Group chairman Christian Watson, who founded Phoenix Brickwork in 2010, said: "I regularly remind our growing team that Phoenix would not be where it is today without each, and every single member of its team.
"From the labourers loading out the bricks and our new apprentices, to office staff and managers, we all have a crucial role to play in the business. Our loyal teams of over 300 subcontractors also play a key part in Phoenix's success.
"Today, I want to take this opportunity to publicly thank everyone for their continued hard work, loyalty, and effort."