Derby County 'don't have the luxury of time' as administrators search for loan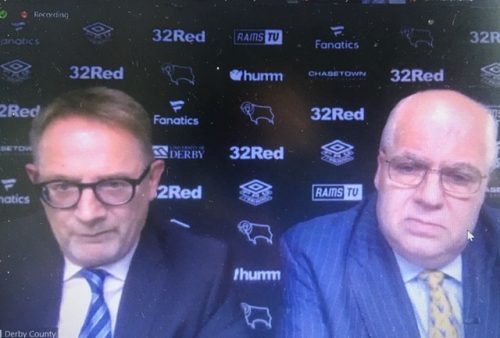 The administrators of stricken Derby County are looking to secure a short-term loan so that they can pay staff, buy players and put season tickets on sale.
The Rams have been in administration since last Autumn and were relegated from the Championship last season. the club currently only has five contracted players and earlier this month US businessman Chris Kirchner walked away from a rescue deal.
In a reply to the Rams Trust, the Derby County supporters organisation, joint administrators Carl Jackson and Andrew Hocking said: "Before a sale is finalised, there is an immediate requirement to secure the short-term future of the club, to allow players to be signed, issue season tickets for sale and to secure commercial agreements, as well as our best intentions to bring the uncertainty for staff and supporters to an end as soon as possible.
"We are having extremely positive and productive discussions with interested parties in relation to the short-term requirements and are confident of those discussions leading to a sale thereafter which will secure the club's long-term future.
"We do not, however, believe that imposing 'hard deadlines' are the answer at this stage."
Quantuma said that bidders for the club will have to submit offers that pay football creditors in full, pay 25p in the Pound to other creditors (or 35p in the Pound over three years) and "propose a suitable solution for the club's ongoing occupation of the stadium".
If they don't receive such an offer, the next possibility is for offers that pay football creditors in full and propose a suitable solution for the club's ongoing occupation of the stadium. In this scenario, where less than 25p in the Pound is paid to other creditors, a 15-point deduction would be imposed for next season (depending on when a sale completes).
It is thought that Mike Ashley, the ex-owner of Newcastle United, and former Rams chairman Andy Appleby are intersted in buying the club.
The statement added: "We are bound by confidentiality agreements and so we cannot release the identities of the parties who have come forward, nor can we release any detail in relation to their interest or bids. However, all interested parties know that it is in their interests to be in situ as soon as possible in order for them to put together a competitive playing squad and secure valuable commercial contracts whilst giving staff and fans certainty for the future. The club does not have the luxury of time, and so, even without hard deadlines, the club's future must be secured very soon."