384,000 sq ft modular building factory up for sale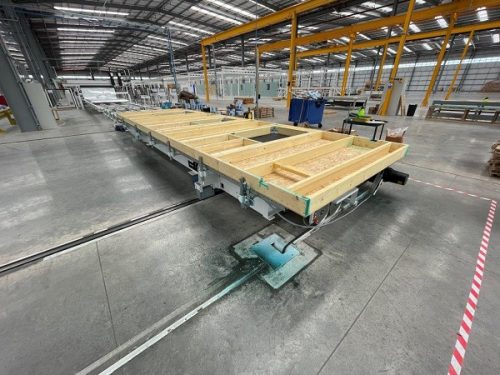 A modular production unit in Bardon, Leicestershire is up for sale – just weeks after housebuilder Countryside Partnerships said it was exiting the 384,000 sq ft modern methods of construction (MMC) facility.
In May, Countryside said its modular business had made six-month loss of £6.5m – £3m of which was attributed to the Bardon site.
The move to leave the modern methods of construction (MMC) premises comes as part of a bid to cut the losses incurred by Countryside's manufacturing processes.
The Bardon facility is now up for sale through chartered surveyor Walker Singleton. It houses a high-tech timber frame
manufacturing line that was designed and installed in a bespoke package.
Stephen Jones, director in the Machinery & Business Assets department at Walker Singleton, said: "The production assets of the business are state-of-the-art, with only one other comparable line in operation within Europe. The line has been designed to produce an advanced closed panel product supporting the move to modern methods of construction.
"It is an exciting opportunity for any company wishing to place themselves at the forefront of the timber frame construction industry. The equipment is geared to a volume output and has the capacity to produce 3,000 units per annum. High regard has been placed on maintenance and upkeep of all equipment with all assets being of industry recognised manufacture."
Jones said that the line could be removed from the site and sold separately, but should a suitable party
not be found the line will be included in a planned online auction of the wider assets of the facility.
When it announced the move to Mountpark's Bardon II scheme in June 2020, Countryside said it would create 100 jobs, with staff making its advanced modular panel system that would deliver around 3,250 new homes a year for the company's three Midlands regions.
Countryside, which is preparing to put itself up for sale, said that it had also completed a review of cost savings across the business, identifying at least £15m of savings a year, the delivery of which is "well underway".