1,000 jobs saved as Frasers swoops for Coventry Building Society Arena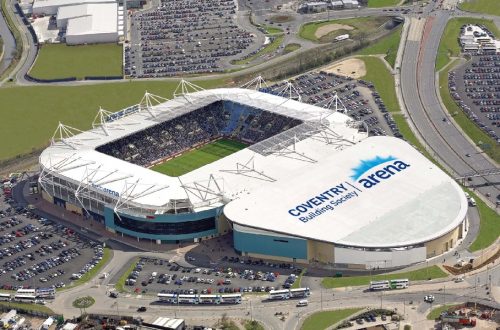 Frasers Group has acquired the Coventry Building Society Arena (CBS) after its owners slipped into administration.
The Shirebrook retail giant's swoop for the 32,609-capacity arena – the home of stricken rugby union side Wasps – has secured some 1,000 jobs and means Coventry City Football Club will have a permanent home next season.
Frasers Group has pipped Coventry City's new owner Doug King to the deal.
Yesterday (16 November) King agreed a deal to acquire an 85% stake in the Championship football club that will leave it "debt free" and end 15 years of ownership by SISU Capital. The deal is subject to approval from the English Football League.
Andrew Sheridan and Raj Mittal at FRP Advisory were appointed to find a buyer for the arena after being made joint administrators of Arena Coventry Limited (ACL), Arena Coventry (2006) Limited and IEC Experience Limited earlier this month.
The pair immediately completed the sale of the businesses, including ownership of the Coventry Building Society Arena, to "certain entities" controlled by Frasers Group.
The deal comes just a month and a half after Frasers revealed plans to create a "world-class" global headquarters campus in Ansty, Warwickshire.
Frasers reportedly faced stiff competition from exhibition venue giant NEC Group, which is understood to have lodged a bid for the arena in early October.
In a statement, joint administrator Andrew Sheridan said: "This is a pleasing outcome, which helps secure up to 1,000 jobs in Coventry and ensures that the venue will continue to play a major role in the city's economy as a world-class entertainment and hospitality venue and home for Coventry City Football Club.
"By agreeing to sign an exclusivity agreement before the 1st November, Frasers Group was the only interested party that was able to meet the terms of the sale process. This was essential in providing the necessary funding that enabled the Arena to continue trading beyond that date.
"Without this, and the collaborative and supportive approach taken by all key stakeholders throughout the process as well as the tireless efforts of the core management team, the Arena would have been forced to close on 2nd November resulting in hundreds of job losses and a materially worse outcome for creditors. We wish Frasers Group and all involved in the Arena every success for the future."
A spokesperson for Frasers Group said: "We are delighted with the acquisition of the CBS Arena which will complement the Group's existing portfolio of brands and investments.
"Through the acquisition, we are pleased to have been able to secure a long-term future for the Arena, protecting jobs and supporting the local community. In particular, we are looking forward to working with Coventry City Football Club."
A spokesperson for the Coventry Building Society Arena added: "We are delighted that Frasers Group have acquired the arena. This will see the doors of this flagship venue remain open and continue to play a strategic part in the City of Coventry's economic tourism plan.  It is a great result for everyone who uses the venue for business, sport, and music as we now can continue with what we do best and that's providing hospitality at is best.
"We would like to thank all of our staff, suppliers and tenants who have worked so hard to ensure that it has been 'business as normal' during the past weeks. Our thanks also go to our key stakeholders, Coventry City Football Club, Delaware North UK, Coventry City Council and Coventry Building Society, for their ongoing support and collaboration."
FRP was advised by Burges Salmon LLP.