Broad Marsh 'Green Heart' plans to move forward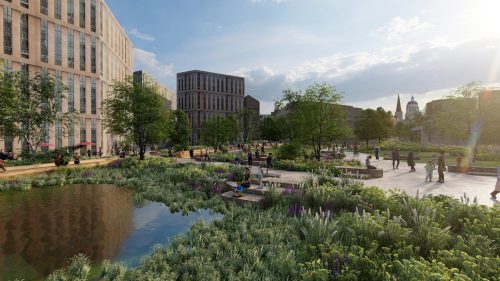 The transformation of Nottingham's Broad Marsh area is set to take a significant step forward after the city council confirmed that plans to create a "Green Heart" between Collin Street and Lister Gate will go ahead next year.
The plans, which form the centrepiece of the authority's vision for Broad Marsh, were developed by the Greater Broad Marsh Advisory Group and world-renowned designer Thomas Heatherwick.
Work on the first phase of the Green Heart will begin in 2023, covering an area "the size of the pitch at Nottingham Forest's City Ground" on part of the old Broadmarsh shopping centre.
The site will be covered with trees and planting to create a "natural, tranquil green space" between Old Market Square and Nottingham Station.
It will also feature what is believed to be the longest bench in the UK.
Cllr David Mellen, leader of Nottingham City Council, said: "The ongoing transformation of Broad Marsh and the wider south side of the city over the last year has been a real positive for the city. The new green public spaces around the new Nottingham College building, along with recently opened bus station and new car park, which is proving so popular, have made a huge difference to the area.
"The opening of the new Central Library next year and the first phase of work to create the Green Heart will be further major milestones in the regeneration of what is such an important gateway to the city centre.
"The Green Heart is one of the key elements of the long-term vision we unveiled last year and something there was huge support for among the thousands of responses we received as part of the council's Big Conversation about Broad Marsh.
"There is more work to be done to move forward with the wider vision but it's great to see major progress being made on the ground."
Thomas Heatherwick, founder and design director of Heatherwick Studio, added: "The world has fundamentally changed and city centres can't just be about retail and shopping any more. They have to become amazing social spaces and bring nature back into, onto and around the buildings. Nottingham is at the forefront of this movement and doing it with a whole lot of bravery and creativity. We are proud to be on the journey with you."