On the move: the latest East Midlands hires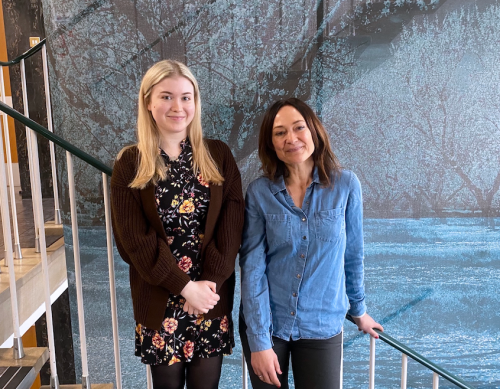 East Midlands marketing and PR agency V Formation has ushered in 2023 by welcoming its fifth specialist marketing hire in 12 months.
The firm, which celebrated its fifteenth anniversary last year by posting a 27% increase in turnover, has continued its growth trajectory with the appointment of junior account executive Susie Jeffrey.
Having graduated from Nottingham Trent University with an MSc distinction in Advertising and Marketing Communications, Jeffrey holds a Level 6 diploma in Digital Marketing from the Chartered Institute of Marketing.
V Formation director Hilary Campton said: "We are delighted to welcome Susie to V Formation, where she will be a real asset to the overall team. Her appointment marks the start of another exciting year for V Formation as we continue to grow as a team, expand our client portfolio, and add to our list of marketing and PR services. Our ongoing growth underlines our commitment to delivering best practice marketing and communications that help our clients to succeed."
Jeffrey said: "V Formation's friendly and supportive team and culture really appealed to me. It was clear to me from the beginning that V Formation is an agency that provides high quality services and delivers top results for its clients, but it is also one where employees are valued and feel excited to come to work – which is very important for me."
She added: "I am looking forward to learning from the team and developing my passion for communications, as well as working with the agency's wide variety of ambitious clients."
Prescient Group, the UK recruitment consultancy with a major base in Nottingham, has appointed Paul Jacobs as a non-executive director.
Jacobs – co-founder and director of Jump Advisory Group – joins the company following a stellar year which saw its turnover skryrocket by 107%.
He brings more than 40 years' experience to the role having previously served as managing director of Office Angels and LoveWorkLife Recruitment.
Prescient director Joel Fletcher said: "Last year was a record year in business for us and as we reflect on our plans for 2023 and beyond, it's amazing to see all that we have achieved in such a short time.
"To help us accelerate our strategy, business goals and ambitious growth plans we have appointed Paul, who has a successful track record in developing strategies to enable businesses to scale up at a fast pace.
"We set out to create and be known as a highly respected and ethical recruitment consultancy and myself, Charlotte [Churm] and Ed [Robinson] are very proud of not only our success, but the brand and team we have built. We're looking forward to seeing more of our vision and plans come to life this year."