Contractor builds for the future as duo step up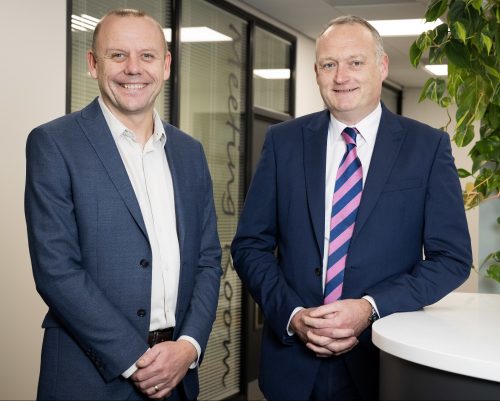 East Midlands-based construction firm Stepnell has announced a pair of senior promotions.
Lewis Archibald has been made pre-construction director in addition to his existing responsibilities as framework director, while Christian White makes the step up to SCAPE framework manager.
White, who will retain his existing responsibilities as senior pre-construction manager, has been rewarded after playing a leading role in Stepnell's successful SCAPE bid. The firm was appointed to the public sector procurement specialist's new £750m regional framework in July last year.
Archibald will continue to manage Stepnell's performance across key national and regional frameworks whilst carrying out his new role.
He said: "I am proud to be part of Stepnell's continued success and look forward to, in my new role as pre-construction director, helping to improve customer relationship management tools and having a greater focus on Stepnell's business development. Not only will this approach enable us to be more selective about the opportunities we take, but it will also help our construction teams and clients to accelerate delivery, increase efficiency and drive innovation across all projects."
White said: "In my enhanced role, I am engaging with all SCAPE stakeholders to drive opportunities, raise awareness and ensure we start the framework on the right footing. I look forward to working closely with Lewis, regional directors and the board to ensure that we continue to deliver fantastic service to new and established clients."
Tom Wakeford, managing director at Stepnell, said: "On behalf of the board of directors, it is with great pleasure that we can announce these well-deserved promotions. Both Lewis and Christian have gone above and beyond to oversee the delivery of many successful projects and bids this year, which has resulted in securing fantastic business opportunities through frameworks, which now account for more than 50% of our work.
"Lewis has helped to build a fantastic relationship with framework provider Procure Partnerships through the quality of work delivered by our teams and the relationships that we have developed, including projects with NHS Shared Services and Crown Commercial Services. We are confident he will continue to perform exceptionally as pre-construction director.
"Christian put in a fantastic bid that was incredibly well received by SCAPE. Stepnell was the only new contractor to get onto the framework, which further demonstrates the scale of the win. The SCAPE framework will deliver some fantastic opportunities for the business and Christian will be pivotal for us to continue providing great service to our clients."
Wakeford added: "The Stepnell team is working hard to raise brand awareness in the framework marketplace so that more clients and consultants can benefit from the excellent service we provide and receive the highest quality of project delivery that we are renowned for."