Plans revealed to kick-off transformation of former HMRC site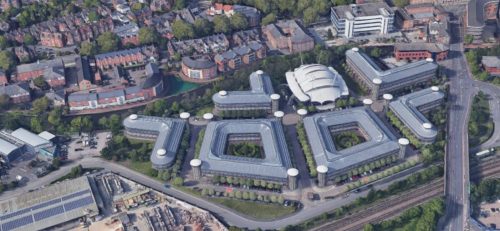 The first plans to transform the former HMRC campus in Nottingham city centre into a new base for the University of Nottingham have been submitted to the city council.
The University of Nottingham has completed a deal to buy the Castle Meadow Campus in Nottingham in November 2021.
Now, plans have been submitted to change the use of Barkley, Ferrers and Fitzroy Houses (blocks A, B and C on the campus), and an amenity building, from office to university use have been revealed.
Set across more than nine acres, the campus comprises six three- and four-storey office buildings and a dedicated health and wellbeing hub totalling 351,247 sq ft.
A planning statement reads: "The proposal represents the first of a series of moves to facilitate the transformation of the site into a world class educational campus in line with the global reputation of the University of Nottingham, as part of a masterplan devised by Hopkins Architects.
"Buildings A, B and C relate to the University's Business School and the delivery of Digital Nottingham in both interim and long term across the buildings. The amenity building is to initially house ancillary office space for the University, with the view to turn this into a student focused space in the long term.
"Any associated external alterations or landscaping proposals would be subject to a separate and subsequent planning application."
The site was marketed at a guide price of offers in excess of £36m when it was sold in 2021.