Agency round-up: Cartwright Communications; Sorted Communications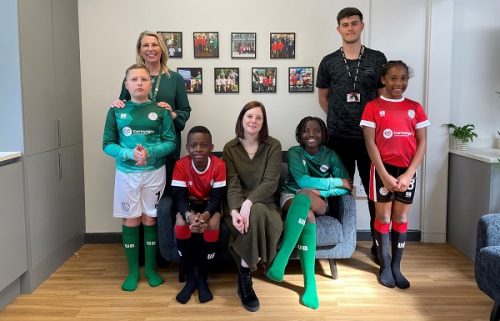 Pupils at Sneinton C of E Primary School have been presented with two new sports kit thanks to a donation by Nottingham-based marketing and PR agency Cartwright Communications.
The agency has made a £600 donation to buy two complete kits to support all school teams, which feature the Cartwright Communications logo emblazoned on the front of the shirts.
Rose Hayes, director at Cartwright Communications, presented the kits to pupils following a tour of the school to hear about the impact of this and previous donations. The agency delivers ongoing support including the gifting of a classroom rug to inspire learning and linking clients with the school to make additional contributions.
Hayes said: "The school is dedicated to providing children in Sneinton with learning and development opportunities while also creating well-rounded individuals, and we know that sport plays an integral part in both personal and physical development.
"We hope that the pupils feel proud to represent the school in their new kits and feel even more encouraged to take up sporting activities. A social pledge that forms a key part of our ambitious environmental, social and governance goals, we want to connect with a breadth of organisations in the communities surrounding our Nottingham, London and Birmingham offices."
Nottingham communications support agency Sorted Communications has been accredited as a Living Wage employer by the Living Wage Foundation.
The Living Wage is an hourly rate of pay set independently and updated annually. It is calculated according to the basic cost of living in the UK, unlike the government's "national living wage", which is based on median earnings.
The current UK Living Wage outside London is £10.90 per hour or £11.95 per hour in London; the government rate is £10.42 across the whole of the UK. Employers choose to pay the Living Wage on a voluntary basis.
Sorted Communications provides flexible support for communications leads across the public, health and third sectors, and joins names such as Nationwide, Google, LUSH, Everton FC and Chelsea FC in gaining the accreditation.
"We are proud to be a Living Wage employer and to be part of the Living Wage movement," said Sorted Communications' CEO, Ali Marsland. "We are an entirely remote company and the wellbeing of all our employees and sub contractors is hugely important. We are committed to being a responsible employer and want to make sure all our employees are fairly rewarded for the fantastic work they do."