Roof tile manufacturer unveils £18.5m expansion plans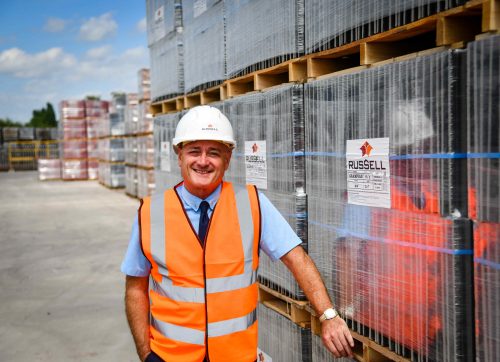 Russell Roof Tiles is set to double output at its Burton factory after investing £18.5m in a major expansion of the facility.
The project, funded by the business and involving supply partners from Sweden, Denmark, Germany and the UK, is expected to create approximately 25-30 engineering and maintenance jobs.
Construction work on the Nicolson Way manufacturing plant will begin towards the end of 2023, with completion expected around mid-July 2024. The company will continue to produce tiles at the site while the work takes place.
The plans – which include a new 1,600 sq m building complete with a state-of-the-art curing chamber – represent the largest single investment made by the company since it was acquired by Crown Global Equity in 2011.
Andrew Hayward, managing director at Russell Roof Tiles, said: "This is a major milestone for Russell Roof Tiles, marking the biggest ever single investment for our business. It is the culmination of 18 months of planning and will increase manufacturing efficiencies, using the latest innovations to reduce our environmental impact."
Hayward added: "The latest project is an important part of our long-term growth as well as our sustainability strategy, using the best-in-class equipment to ensure we're manufacturing products of the highest quality in the most efficient way."
Kate Kniveton, MP for Burton and Uttoxeter, visited the site to witness the start of groundworks.
She said: "It was great to be with Andrew and the team at Russell Roof Tiles in Burton. Russell Roof Tiles is a company which has made real progress over recent years, expanding and employing more and more people locally.
"This new investment Russel Roof Tiles is making into their Burton site is fantastic news for our town and the wider economy, bringing more jobs and prospects to our area.
"I want to congratulate Andrew on the success Russell Roof Tiles is having which is enabling it to make this business investment but also for the investment they have already made in Burton, raising thousands of pounds for local charities – this is greatly appreciated, and I know what a big difference they have made."