Plans revealed for 141-bed Nottingham student scheme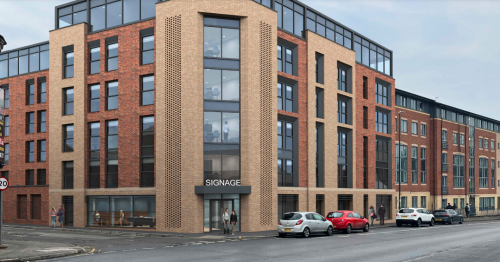 Plans have been revealed for a major new student scheme in Nottingham on the site of a former bathroom showroom.
If given the go-ahead by the city council's planning department, the development at 265 Ilkeston Road will see the old Willbond outlet flattened and a six-storey student accommodation scheme built in its place.
The proposed development would be operated by South Park Road II and would include 1 six-bedroom apartment and 27 five-bedroom cluster flats, as well as a communal lounge, private courtyard, laundry and bike store.
In total, the scheme would house 141 students close to the University of Nottingham's Jubilee Campus.
A planning statement prepared by NW Architects reads: "Our proposal will create a unique student offering located within the Lenton area of Nottingham, located close to the Jubilee Campus of the University of Nottingham.
"The proposed clusters are designed to serve small groups of students looking for individual bedrooms with en-suite facilities and shared communal cooking and lounging spaces.
"As the development is located in a primarily student orientated area, the residents will have direct access to excellent public transport links and a wide variety of amenities all within a short walking distance."