Architect flexes muscles to finish new gym job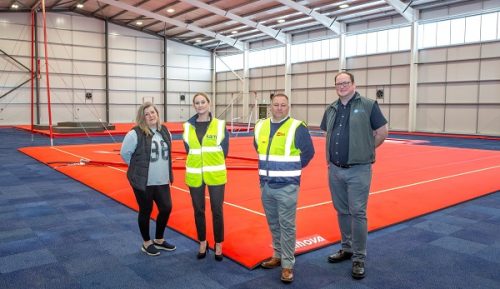 Leicestershire-based IMA Architects has completed work on a new gymnastics facility for Rugby Gymnastics Club.
IMA has been part of a team including KAM Project Consultants and BWB, on behalf of Sport England, that has worked with the Gymnastics Club to bring forward the 20,000 sq ft scheme at its new home on Kilsby Lane.
IMA Architects was part of the design and delivery team consisting of main contractors, Wilten Construction and Civil and Structural Engineers, Jackson Purdue Lever. As architectural consultant, IMA oversaw the coordination of the project.
Joe Travers, associate director at IMA Architects, said: "We have enjoyed working on this project to deliver a purpose-built gymnastic facility for a thriving club. At IMA we're well known for our attention to detail and commercial awareness in seeing projects through to completion, and we have worked with Wilten as main contractor and the Gymnastic Club to produce a building which is both fit for purpose and financially viable, that accommodates the Gymnastics Club's required layout."
Construction at the site started in August 2022 and practical completion for the first phase of works was achieved on 6 February 2023, with the Gymnastics Club due to relocate to its new home in the coming weeks.
Simon Barnett, project manager at Wilten Construction, said: "The project has resulted in a massive improvement on the Club's previous facilities which had become inadequate for the current needs of members. The new building allows them to have more gymnasts and facilitate holding their own events and competitions."