Digital media firm announces new city centre site targeting commuters and shoppers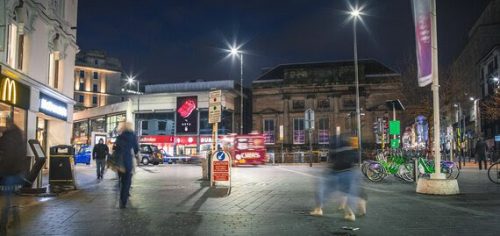 A Liverpool media company is expanding its city portfolio with a new digital advertising screen outside Central Station, one of the busiest rail stations in the UK.
OPEN Media said the screen will be located on Ranelagh Street, facing Liverpool's busy shopping district, and will be part of the exciting new redevelopment of the rail station.
The screen will go live next month and will add to a number of premium out-of-home sites currently owned and operated by OPEN Media in Liverpool.
The full motion commercial advertising space will serve as a great outlet for brands wishing to target both a retail and commuter audience at one of the busiest stations outside London.
OPEN Media now have three digital screens and one premium static banner in the city, all in high impact areas throughout Liverpool.
All the sites being in close proximity to one another will maximise opportunities for brands who want to create a long-lasting impression by taking full advantage of the consumer's journey across the city centre.
Managing director Mike Smith, said: "This is an exciting time for OPEN Media and we are extremely proud of our new location at Central Station.
"Not only does this show that we are investing heavily into the out-of-home industry, but this location cements our presence within Liverpool and adds value to our city centre network.
"We are proud to say that we have an extensive knowledge of the surrounding areas of all our out-of-home sites in Liverpool, with Central Station being no exception."
The small independent company also operate two screens on Hotel Football in Trafford and have recently branched out of the North West with a digital screen on Boxpark, Wembley.
By the end of 2019, OPEN Media will have created four jobs to support its growing number of sites.