Coronavirus business update: Latest news across the North West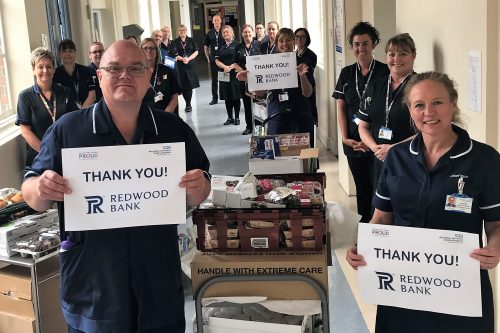 Children and COVID-19 patients in hospital, and frontline staff at the Warrington and Halton Teaching Hospitals NHS Foundation Trust, will benefit from a £10,000 donation made by a challenger bank.
Redwood Bank, which has a Warrington office, is handing over the cash contribution to the Warrington & Halton Hospitals' Charity, an organisation that raises funds to help people who have been in hospital and require some extra help beyond the services the NHS provides.
The money will be spent on toiletry packs and simple clothing for COVID-19 patients who are taken into hospital with no personal belongings, and on discharge packs for those recovering who may not have any of the basics waiting for them at home.
In addition, the Trust hopes to fund iPads and other devices, so that patients who are currently not allowed visitors can contact their loved ones via 'face-to-face' video calls.
The Trust's chief executive, Prof Simon Constable, said: "Not seeing loved ones is a real concern for our patients, so as well as purchasing more devices we've temporarily funded free bedside TV and phone calls for all patients.
"Our children have also been badly affected, as they're only allowed one parent to stay with them on the ward and their siblings cannot visit at all. We'd like to provide our children's ward with a range of additional items to help keep them amused.
"When people lose their life to coronavirus, they sometimes die without their loved ones at their side.
"This is heartbreaking for all involved, so we asked our community of knitters to make little red hearts. One stays with the patient and the others are given to the family in memory of their loved one. It's such a small gesture, but many have found comfort from it.
"We'll also be buying more red wool and knitting sets so we can ensure that every patient that passes while in our care gets this fitting tribute."
The donation will also go towards helping to support staff mental health and wellbeing with the creation of a sanctuary offering counselling and mental health support, as well as relaxation and yoga classes.
The charity supports the Warrington Hospital and Halton Hospital in Runcorn.
Gary Wilkinson, chief executive and co-founder of Redwood Bank, said: "It's devastating to hear that poorly children can only see one parent at a time and that COVID-19 patients are dying alone without all their loved ones around them. We all know this is necessary because of how infectious this killer virus is, but it doesn't make it any easier for those involved.
"As a Bank there's not much we can do, other than provide financial support, which is why we've decided to make this £10,000 donation to help support the brave frontline healthcare workers, the children who are missing their families and all the coronavirus patients who are fighting for their lives completely alone.
"We want each and every person at the Warrington and Halton Teaching Hospitals NHS Foundation Trust to know we're behind them and as a company we are also doing our bit as we're all working from home and social distancing."
::
A North West technology firm is launching a unique ordering platform to help shops trade more safely and effectively during the coronavirus pandemic.
Forage Lite will enable customers to order, pay for, and pick up orders without having to come into an outlet's premises. Buyers only need a smart phone to access the new zero-contact click-and-collect way of shopping.
The Cheshire based firm is aiming to gain uptake from restaurants, takeaways, grocers, retailers and other small businesses serving local communities across the UK.
Graticule Personalisation, the firm behind Forage Lite, says the new service has been fast-tracked to ease the effect of coronavirus on retailers and food outlets.
Developed in four weeks, it uses technology from Graticule's Forage product which is being launched later in the year for supermarkets, restaurant's and retail chains.
Forage Lite works by allowing customers to order via text, Facebook Messenger or WhatsApp. When the order is received and accepted by the shop owner, a link is sent to the customer to make the payment online.
The shop owner is notified when the payment is processed and is given the registration plate of the shopper's car. When the order is ready the buyer is alerted and can drive to the outlet and text they have arrived.
The shopper's identity is confirmed through the number plate and the goods brought out and placed in the boot without the customer having to leave the car.
Customers who prefer to walk or cycle to an outlet can pick-up orders at a pre-designated point.
The online payments are secure and use Barclaycard or Stripe, a popular payments system used by thousands of small businesses.
Graticule Personalisation is run by Rob Baker and Dave Hall who met when working on an inventory project for Starbucks. The pair, who founded Graticule two years ago, have tech experience with brands such as Sainsbury's, Morrisons and KFC.
The company's chief technology officer, Dave Hall, said: "There is no need to be a techie or have IT support to set-up Forage Lite. Shop owners and their customers can start using it as soon as they sign-up."
Chief executive, Rob Baker, said: "Forage Lite will help the country's small retailers and food outlets operate more effectively and safely through the pandemic by taking away physical interaction through handling money or goods, while giving customers a more convenient and faster way to collect their orders."
Rob who lives in Langley Village, near Macclesfield, added: "Local shops are essential to keeping communities together and we want to do our bit to help them come through this difficult period."
::
Manchester-based food company Soreen has teamed up with Checkout Smart to offer NHS staff and key workers at the front lines of the coronavirus thousands of free products from its snacking range.
NHS staff, key workers or people on behalf of those workers, can visit: www. checkoutsmart.com/soreen, enter their details and redeem Soreen products free of charge.
Mark Simester, managing director at malt loaf maker Soreen, said: "It's been a challenging time for everyone and at Soreen we want to ensure that we are doing what we can to support those who need us most. We're working hard to get food on the shelves, and support the NHS, key workers, food banks and charities.
"Our gratitude goes out to doctors, nurses, police, fire services, teachers and delivery drivers – everyone who is risking their own health and wellbeing under unprecedented circumstances. We all owe them our wholehearted thanks.
"We've donated thousands of Soreen snacks to NHS workers as a way of showing our thanks for their tireless work. We hope these provide them with a much-needed boost to help fuel them throughout their challenging days."