People on the Move: BT; OTAQ; B-North; Bridge Community Wellness Gardens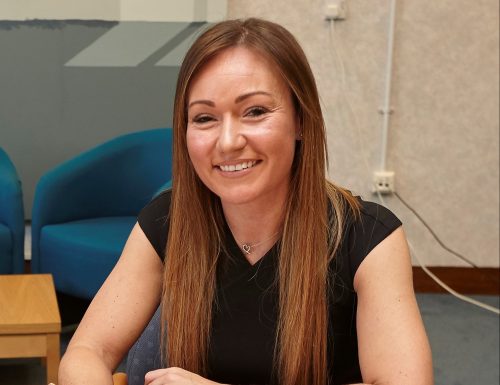 Sarah Walker, who has held several senior sales-related roles at BT, has been appointed as the new director of its Enterprise business in the Midlands and North of England.
She started her career at BT selling analogue mobile to small- and medium-sized businesses and has worked in a variety of roles during her 22 years with the firm.
She will lead BT's Enterprise unit's relationships with its business and public sector customers across both regions.
Sarah, who is based in Wirral, has started her new role during a particularly challenging time for the regions, and the entire UK, due to the COVID-19 pandemic.
She said: "We know how tough it has been for our customers, including some who have had to temporarily cease trading and others who are adapting to finding new ways of working.
"The shutdown of normal activity is having a huge impact on businesses, particularly in the hospitality, leisure, entertainment, travel and education industries. As a critical enabler, we are doing all we can to support our partners in both the public and private sectors."
Sarah's most recent role was leading the major corporate section within BT Enterprise's major & public sector division, where she was responsible for managing projects including BT's strategy to improve passenger connectivity across the UK rail network.
BT has invested significantly in the Midlands and North of England with the recent announcement of future workplaces in Birmingham, Manchester and Doncaster and 5G mobile services launching in a number of cities and towns in the Midlands as well as places such as Newcastle, Sunderland, Leeds and Liverpool in the North of England.
Sarah said the focus now was to help businesses survive the economic impact of the coronavirus situation, but in the longer term she wanted BT to play a key role in both regions' future prosperity.
BT is also supporting the growth of its mid-market and larger corporate customers in both regions by helping them to accelerate the adoption of digital technologies such as full fibre, 5G, cloud services and Internet of Things (IoT) solutions.
Dean Terry, managing director corporate and public sector of BT's Enterprise unit, said: "I look forward to working with Sarah in her new role. Her experience of working in senior sales positions within BT and her understanding of the business needs of our corporate and public sector partners in the Midlands and North of England will be a huge asset in her new role."
::
OTAQ, the Lancaster-based marine technology products and solutions group for the global aquaculture and offshore oil and gas industries, has appointed Matt Enright to the board as chief financial officer and company secretary at the board meeting held on June 26.
Matt, who joined the company on April 1, 2020, is replacing interim chief financial officer Simon Walters who oversaw the successful transaction to list OTAQ on the stock market and to raise new monies and has stood down from the board.
Matt qualified as a chartered accountant in 2003 with Baker Tilly (now RSM).
He has experience of working with internationally-focused growth businesses across a range of industries.
He moved into the private sector in 2006 where he worked with owner-led and private equity-owned businesses.
Matt joined TRM Packaging as finance director in 2013, a specialist cardboard box manufacturer, helping to grow the business before playing a prominent role in the sale of the business to DS Smith.
Non-executive chairman, Alex Hambro, said: "I would like to acknowledge Simon's significant contribution since the Autumn as chief financial officer in the successful completion of the Hertsford and OTAQ deal. The transaction benefited greatly from his experience. We wish Simon the very best for the future.
"OTAQ is an ambitious company with a strategy to further expand globally. We have a strong board and executive team committed to delivering our innovative products to the aquaculture and offshore industries which are embracing the benefits that applied technologies can bring to their businesses. We welcome Matt to the team and look forward to his contribution."
Matt Enright added: "I'm delighted to have joined OTAQ at such an exciting time and look forward to working with the team to help continue and build on the recent successes of the business."
::
B-North, the firm building an SME lending bank for the UK, has announced the appointment of Rebecca Owen as its first regional managing director.
Rebecca will help to develop and launch the firm's first 'lending pod' – which will be based in Manchester.
Her skill set is perfectly suited for the challenges of delivering a new regional SME lending bank, the UK's first in 150 years, as she has both extensive experience in delivering meaningful SME lending and working at a challenger brand.
Rebecca brings with her more than two decades of business and commercial banking experience – leading teams through demanding environments, such as the global financial crisis, a large scale integration and a following disintegration some time later, all while building strong relationships with her team to ensure delivery for her SME customers.
She was most recently head of origination at a challenger bank for the past 12 months following more than 20 years at RBS Group where she spent the majority of her career working with SME's in various senior positions.
Tapping into the UK SME lending market valued at more than £150bn per year, B-North's model is built on the premise of operating regional 'lending pods' of underwriters, brokers, and account managers across the UK for faster lending and to build face-to-face relationships with growing businesses.
Through its model of rich client relationships and utilisation of cloud banking technology, B-North aims to deliver lending up to 10 times faster than the market standard.
B-North continues to make strong regulatory, commercial and technical progress and expects to commence lending activities later in 2020.
Rebecca said: "I am excited to start work with the B-North team at what is such a critical and exciting time on their journey to building a truly regional SME lending bank.
"With the UK economy eager to get moving after what has been a very damaging time both socially and economically, B-North's vision for personal and fast SME lending has never been more critical. I am looking forward to working with the team as we establish B-North's first lending pod."
B-North, which last year appointed the founding chair of the British Business Bank, Ron Emerson as its chairman, is led by a team who have held numerous senior positions at some of the UK's biggest high-street banks.
B-North CEO and co-founder, Jonathan Thompson, said: "We are delighted to be adding Rebecca to our talented team – her appointment is another demonstration of B-North attracting top talent to help us in our mission to fuel the county's vital SME's.
"Rebecca's appointment comes at a vital stage in our journey as we look, not just to aid a post-COVID economic recovery, but also to help the rebalancing of the nation's economy with the provision of financial services across the country."
::
The Ellesmere Port-based charity, Bridge Community Wellness Gardens, has appointed four new trustees.
To help support its growth, a new chair has been appointed as well as four other trustees.
The charity is also looking for another trustee with senior finance experience in the charity sector to join the team.
New chair, Anne Davies, a Deputy Lieutenant of Cheshire, said: "We are delighted to announce the appointment of four new trustees, all highly experienced professionals who are excited to join the board during this period of growth."
Joining the team is Clare Roberts, who, for the past four years, has worked for Cheshire West and Chester Council, co-ordinating the Poverty Truth Commission.
Daniel Rogers, interim CEO of Chapter, a mental health charity in Ellesmere Port, is also welcomed as a new trustee.
He said: "I've worked with mental health for the past eight years and I'm a firm believer that mental ill-health should not be a barrier to opportunity. I'm delighted to have joined the board to represent the mental health needs of our local communities."
With a wealth of commercial and business knowledge, supporting the charity as a new trustee is John Loney, a company, commercial, and real estate partner at Knights.
Mick Slater, who joined the Royal Navy as a hydrographic surveyor aged 16 and was awarded the MBE in 2008 for his services, is the fourth trustee for the charity. Mick, who served in the Falklands War, was previously operations director and interim CEO for Bibby HydroMap.
Bridge Wellness Gardens provides training and life skills to those with learning disabilities and mental health issues. It is set in an outdoor farming environment and champions sustainable farming practices with fresh local produce delivered to customers' doors on a weekly or fortnightly basis.