Coronavirus business update: Latest news across the North West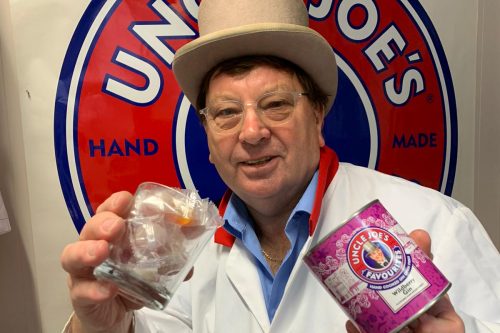 Sales of a range of alcohol-flavoured sweets rose by 20% while the UK's pubs were shut due to COVID-19, manufacturers Uncle Joe's Mint Balls have revealed.
The world-famous premium sweet brand said demand for its apple cider, dark rum, rhubarb and ginger gin, and wildberry gin flavours has been maintained despite boozers reopening their doors this month.
The Wigan-based business is now investing in the alcohol-flavoured range and has appealed for people to suggest other pub favourites which it can turn into sweets.
Uncle Joe's Mint Balls are made by William Santus and Co, a privately-owned traditional sweet company that was established in 1898.
The ownership has been passed down through the family generations and joint managing directors John and Antony Winnard are the great, great nephews of the company's founder.
John Winnard said: "We know that while the pubs were shut many people just bought alcohol to drink at home, but there are also a lot of people who don't like drinking in the house or in front of their children.
"Our alcohol-flavoured sweets enable them to enjoy the taste of something alcoholic but, because they are alcohol free, they don't have to feel guilty.
"Now the pubs have reopened many people are still nervous about going because of COVID-19 and others have just simply got out of the habit and are treating themselves to a tin of gin sweets instead of paying for a real gin and tonic."
Uncle Joe's Mint Balls are still manufactured using the same traditional methods as when Mrs Santus originally made the sweets in her kitchen in 1898.
The completely natural "secret recipe" has been passed down through the family generations.
::
In three months, Wirral Council has distributed more than £51m in grants to local businesses, to help them through the challenges of COVID-19.
Business owners across the borough have come forward to acknowledge the guidance and support provided by the council over recent months.
Up to 4,600 businesses have received financial support from the authority and as the latest of several funding schemes – the Discretionary Business Grants Fund – drew to a close, several of those receiving grants expressed their relief and hopes for the future, with comments ranging from: "This money will be invaluable in trying to generate new clients and enable me to bring furloughed employees back into the business, and hopefully not have to make any redundancies," to "thank you very much for this vital support. It'll go a long way towards helping us achieve the long-term aspirations of the business and the ongoing job security of my team."
Wirral Council cabinet member for finance and resources, Cllr Janette Williamson, said: "I am proud that we got these vital grants out quickly to help businesses survive – with more than £27m paid out in just the first two weeks.
"After the COVID-19 pandemic hit, it is clear this cash was a lifeline and will be important for the long-term recovery of local companies."
As shops, pubs, cafes and restaurants have started to reopen in recent weeks, council officers produced a business toolkit to summarise and direct business owners to useful guidance.
Virtual meetings have been held with licensees to ensure everyone understands the new regulations and is equipped to reopen their businesses safely. As new grant streams continue to be announced, the council continues its commitment to publicising these across the borough, working with partners in the Wirral Chamber of Commerce and Federation of Small Businesses.
Cllr Williamson said: "When I read letters which say things like: 'You have no idea how much difference this money will make to my business but more importantly to my family', it makes me all the more resolved to keep finding ways to help local firms survive this crisis."
A number of ratepaying businesses who receive Small Business Rate Relief and Expanded Retail Relief are yet to come forward to claim a grant and the council has urged businesses to apply without delay, while the scheme is still available.
::
A Manchester-based family law team has opened up its free helpline service to fellow professionals to help more callers.
Merrick Solicitors launched the freephone number in April as fears were raised about increasing instances of domestic abuse during the lockdown.
Since then its team has been available seven days a week from 8am to 8pm to offer advice on relationship issues such as divorce, separation and children.
Now Merrick has assembled an expert panel to offer free advice on everything from employment law to issues with wills and trusts to health problems.
The week-long initiative started on Monday, July 13, with Childline-trained Sophie Hughes taking calls in confidence from young people.
On Tuesday, 14, it will be Chris Burrows, head of the private client team at Glaisyers Solicitors, a specialist in wills, trusts, probate, inheritance tax and estate management.
He will be followed by 'Colonics Queen' and gut health specialist Helen O'Brien, of the Complete Health Clinic at Manchester's Lowry Hotel, who will use her knowledge of nutrition to advise on improving immunity, reducing stress and enhancing general health.
Thursday will be the turn of Knights employment lawyer Daniel Rubin, a specialist in workplace disputes, termination of contracts and many other workplace issues.
The week will round off with Altrincham-based family mediator Maura McKibbin, who is trained as a separation and divorce coach helping families through relationship breakdowns.
Alongside the guest expert each day on freephone 0800 285 1413 will be one of the Merrick team to offer family law advice.
Merrick principal Amanda Merrick said: "We're delighted that these knowledgeable, experienced people have come on board and offered their services for free to help people who may be struggling.
"We launched the helpline to offer help to those who needed it during lockdown and we're really pleased to be able to extend the support available."